If you are looking for the best 4k laptops, you have come to the right place. While these laptops can be a bit expensive, a little research can help you find a budget option as well.
It is amazing that the world is now after 4k laptops. There was a time when the major deciding factors to pick a laptop were specifications such as the processor speed, RAM, storage capacity, etc.
The search for the 4k option shows people wishing for that immersive visual experience that the companies keep promoting.
In this 4k laptops review, we have not paid much attention to the price. We believe that when you are looking for a new experience, your budget should not come in your way.
However, the laptops we have ranked in this review offer you the best bang for your buck. These laptops are not cheap, but the value they deliver is high against the price you pay for them.
In A Hurry? Here's The Winner From Hours Of Research
Editor's Choice
HP Envy 13
Why is it better?
Gorgeous 4k Touchscreen
Fast i7 Processor
Nvidia Graphics
Speedy SSD
The Lineup At A Glance
The Contenders For Best 4k laptops reviews
1. Dell Inspiron 4K Gaming Laptop – Value 4K Pick For Gaming
Dell has created a laptop with tons of gaming power at an affordable price in the Inspiron 4K Gaming Laptop. The 4K screen on this laptop is the cherry on the top, with beautiful colors and unbelievable sharpness.
Fantastic screen
Nvidia graphics
Tons of storage space
If you are looking for a decent laptop that also has a 4k screen, the choices are very slim. Add in a budget restriction, and it is even worse. Dell has answered the call with the Inspiron 4K Gaming Laptop.
Key features & details
2. HP Spectre X360 – Touch Screen Laptop
If you like to play games with high graphics requirements for fun, this is the laptop for you. It might not be the best for professional gamers due to its small-dedicated graphics memory.
Touch screen operation
360-degree hinge rotation
8th generation processor
Solid state drive
Does not have enough storage
Fans can get loud
HP Spectre x360 is a unique laptop. The first thing that makes it unique is the 360-degree hinge rotation, which allows you to use it like a tablet with a stand on its back.
The side bezels around the screen are very small giving you a true edge-to-edge display.
The thickness of the laptop tapers from the screen to the touchpad, giving it a very slim overall look.
Of course, it has a touch screen so you can use it conveniently in the tablet mode. This mode makes Spectre the perfect laptop to be on your office desktop for checking emails and seeing social media news feeds.
There is no compromise on the processor performance since it carries an 8th generation Core i7 processor at 1.8GHz.
Moreover, you get dedicated graphics memory so you can do some level of high graphics gaming as well.
It also comes with a stylus pen so you can do some art, drawing, and writing if you are in any of those professions.
The high-quality Bang & Olefsen speakers make this an entertainment laptop, besides being a workhorse. One of the things that make it an entertainment laptop is the Bang & Olefsen speakers on it.
There are many connectivity options including the thunderbolt port as well multiple USB 3.0 ports. The solid-state drive ensures uncompromised gaming performance. It also has an admirable battery life for worry-free gaming and media viewing.
Most customers love the laptop for its performance. Many users have also admired the fact that it does many things well, and that it is not just a gaming laptop.
3. Asus ROG Zephyrus S – Pick for Gaming Laptop
If you're looking to get your ultimate 4K gaming laptop, look no further. Asus ROG Zephyrus S is the top choice for gamers who are looking to adventure into 4K gaming since it isn't only capable of running 4K videos & games, but it's improving the experience with the amazing OLED IPS display.
IPS type display suitable for 4K resolutions
3ms response time with narrow bezels
Max Q graphics technology
Very powerful configuration
Solid aluminum body design
Rog active Aerodynamic System
Customizable 4-zone keyboard
Keyboard placement is a bit different
Fans can get loud
Key features & details
4. HP Envy 13 – Best Touchscreen 4K Laptop
If you are looking for the perfect 4K laptop with a touchscreen, the HP Envy 13 should be at the top of your list. It has a great i7 processor, a dedicated Nvidia GPU, and even gets great battery life with all day use.
Plenty of RAM
Fast i7 processor
Great battery life
Wonderful touchscreen
Hit or miss fingerprint sensor
Not upgradeable
HP has crafted a beautiful small and portable 4K laptop in the Envy 13. There are many lower end 4K laptops on the market, but this beauty deserves more recognition.
Key features & details
5. Razer Blade 15 – High-End 4K Pick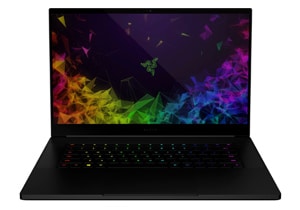 Razer Blade 15 is one of the most high-end laptops that supports 4K and if money is no object – you'll love what Razer has to offer. It's not only a laptop suitable for gaming but pick the hardest task for it and it'll do it simple and easy.
Zero compromise powerhouse
Futureproof design
Perfect 4K display for
High-end configuration
Biometric Security
Customizable RGB key lighting
Can get noisy due to the coil
Key features & details
Criteria used for evaluation
Size & Resolution
If you're getting a high-end 4K laptop, paying attention to size and resolution is important.
Size might not be important to everyone, but if you're looking to get the most out of the 4K image – getting a larger laptop is going to provide better results. Since 4K laptops come with great performance, they often include brilliant high-end displays.
Resolution is also important, but a laptop has the capability to provide 4K resolution, you won't have anything to worry about. Just make sure that the laptop can reach a 4K resolution.
Performance
In order to be able to run 4K resolution on a laptop, you'll need a pretty powerful laptop that is capable of doing it.
Making sure you get a high-end laptop that includes some of the latest components is a pretty great way to start.
Both processor and graphics card are required to be powerful, and while dedicated graphic cards aren't required – a laptop should include any of the latest HD integrated graphics card series.
You can't run 4K videos and games on any laptop especially because performance plays a crucial role. Make sure you get your laptop's configuration right before it's too late.
Purchasing a laptop that can be upgraded is another good way to go about this.
Battery Life
While battery life might not be super important to everyone, everyone will use a laptop for different needs and purpose. Therefore, it's important to get a laptop with at least decent battery life since you'll be most likely running powerful configuration and using it for 4K purpose.
Running such high resolution will require a high-end battery as well, and making sure a laptop you're interested in can last at least for 5 to 6 hours will do well.
On the other hand, there are most modern laptops which are capable of providing a battery that will last for a whole day of constant use, no matter the type of usage.
Storage
Everyone who is looking into 4K laptops is probably going to watch a lot of 4K movies, and even play some of the 4K games which are already available.
Making sure you have plenty of space is very important. If you think a certain amount of storage will do well, you better increase it by two times – just to be sure.
Investing in a pair of SSD drives is always a good idea if you aren't limited by a budget, of course.
O.S
O.S also plays an important role since you'll need to use a trusted O.S which supports 4K files. Going with a Windows or Mac OS is always a smart idea, but you will also be able to do so using a Linux OS – in case you decide to stay away from the two main OS's we have available.
But other than making sure your O.S supports the 4K files, you'll have to also make sure that O.S optimizes your configuration and that it runs as smoothly as possible – since you don't want anything to slow down your precious high-end 4K laptop.
Frequently Asked Questions
What is 4K?
4K stands for a resolution that is 4 times bigger than 1080p resolution. Therefore, you're getting 4 times larger and resolution displayed on the same screen size that would've usually display max 1080p videos.
What display works the best with 4K laptops?
The best display is either an OLED, IPS or a combination of both display types. This will provide the sharpest and most colorful & correct image projections that will satisfy every 4K enthusiast. Also, such display types are proven to be able to reach high resolutions which are required for 4K.
How demanding are 4K videos?
In case you aren't familiar with 4K videos, chances are you won't be able to run one on your current laptop. 4K requires a very high resolution that also needs a lot of processing power on both CPU and GPU end in order to maintain the correct picture running smoothly.
Can you play 4K games on a laptop?
If you're an avid gamer and you can't wait to start gaming in 4K resolution, you'll love to hear that there are plenty of games available in 4K and yes you can play them on a 4K laptop. Just make sure you get a high-end gaming laptop that comes with both great CPU & dedicated GPU processing power.
What size screen is best for 4K resolution?
4K will look good on any size screen, but it is more needed the larger the display size. So anything from 15-inch and above you will see the most benefit from switching to a full 4K resolution.
Will a 4K screen make the battery life shorter?
Generally, yes. Having to use more power to show images and videos on that many pixels will make the battery drain faster than the same computer with a lower resolution screen.
Concluding Thoughts
In the end, when you are out looking for the best 4k laptops, you will face hefty price tags and gaming configurations. However, we believe you should get the best of both worlds.
Hence, we have picked the perfect 4k laptop that has the looks and in-hand feel of a regular laptop but configurations of a light gaming laptop.
Get your hands on it, enjoy some detailed graphics and crisp colors, and boast the specifications when talking to your friends about your gear.