Whether you use your computer for work or play, a desktop machine connected to a wall outlet isn't always an ideal solution. An easy solution for that will be to find a large screen (17 inch) laptop. With that said, let's dive in our best 17 inch laptop this year!
Picking The Best 17 Inch Laptop
When you know that you want a specific size notebook computer, you can drill down to other hardware specs and find your perfect match in a sea of options.
Keep in mind that all of these contenders usually weigh more than the typical 13 – 15 inch machine. That being said, there are still thin and light options available if you don't want to lug around a heavy machine all day.
Beyond the size and weight, your main deciding factors should concern the graphics card and number of ports.
If you intend to use your laptop for heavy duty gaming, don't ever skimp on the dedicated graphics card. For business and home usage, you can skip that feature and go with integrated Intel graphics.
Larger laptops mean more room for extra ports, so be sure to check what options are available in each model. Some may lack HDMI ports for connecting to external displays, while others will include the DVD-RW feature.
Ready to get started? Let's take a look at what 17 inch models are available for every budget and every type of user!
In A Hurry? Here's The Winner From 20 Hours Of Research
Editor's Choice
HP Envy 17t
Why is it better?
16GB of fast RAM
Speedy SSD
Sturdy metal construction
Stunning 4k screen
The Lineup At A Glance
The Contenders For Best 17 Inch Laptop
1. HP Pavilion 17 – Best Under $500
The HP Pavilion 17 is a good looking laptop with specs that will make it a great every day PC for the whole family. The large 17 inch screen is good for watching movies or videos, and the large hard drive size gives you plenty of room to store all your family photos.

2 TB of storage space
Backlit keyboard
Stylish color
Slow hard drive
Low resolution
A laptop with a large 17-inch screen is a great addition to a household for watching videos and movies no matter where you are. The Hp Pavilion 17 is a fantastic choice for an entertainment and family PC.

The HP Pavilion 17 sports a dual core Intel i3-7100u with hyperthreading, 8GB of RAM, and a 1 TB mechanical hard drive. This gives it plenty of power and speed to drive through your normal tasks and media consumption.

The integrated Intel Graphics 520 will not provide much in the way of gaming performance, but for watching movies and doing homework it is absolutely fine. If you want to do any heavy gaming (3D in particular), you will need to look for a laptop with more graphical horsepower.

The large 17.3-inch screen is great for watching movies and videos. Though it isn't full HD, the 1600 x 900 resolution is enough for a laptop of this size.

Given the large screen size, that means the entire laptop is on the larger side. This equates to a nice large keyboard and trackpad, both of which work well.

For such a budget price, you will not find many 17-inch laptops on the market. This version of the HP Pavilion will not wow you, but it will definitely get the job done.

2. Dell G3 17 – Best Under $1,000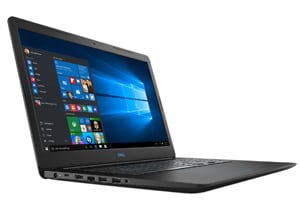 The Dell G3 17 is branded as a gaming laptop, but the sleek styling makes this a fantastic choice for anyone looking for a large screen computer. The gaming internal parts ensure it has the speed and performance to make using the computer a breeze.

Nvidia GTX graphics
i7 processor
Backlit keyboard
Poor battery life
Gets warm
Often, the only laptops you can find with high end processors and graphics cards are gaudy RGB gaming laptops. Dell has created a 17-inch laptop in the G3 that has the power of a gaming laptop but the elegance of a business computer.

The G3 laptop has a powerful 6-core Intel i7 8750H processor and 8GB of RAM, making it good for not only every day tasks, but also for more intense tasks such as 3D modelling or photo/video editing. The SSD is fast, and with the addition of the backup storage drive, you can save all of your files without running out of space.

The inclusion of an Nvidia GTX 1050 Ti with 4GB of VRAM is what really classifies this laptop as a gaming computer. However, it will aid in the aforementioned 3D modelling and video/picture editing just as well as it can play games.

The full HD 1080p display on the Dell G3 is extremely nice. Colors pop off the screen and the viewing angles are very good.

The keyboard is backlit and has a nice key travel, giving it as close to a desktop feel as is possible. The trackpad is nice and smooth and extremely responsive. No complaints on either.

If you are in the market for a powerful 17-inch laptop under $1,000, the Dell G3 17 is as good of a choice as you will find. Powerful specs, a dedicated graphics card, and strong build quality make it the best available.

3. ASUS ROG Zephyrus S GX701 – Best Gaming Laptop
The ASUS ROG Zephyrus S GX701 is far and away the most stylish and powerful gaming laptop on the market. If you have the funds to purchase this luxury laptop, you will not be disappointed as it is loaded with everything you can imagine.

Nvidia RTX graphics
i7 processor
High refresh rate G-sync display
Expensive
Awkward keyboard layout
In the saturated market of 17-inch gaming laptops, one laptop stands head and shoulders above the rest. The ASUS ROG Zephyrus S GX701 is the most luxurious and powerful laptop on the market.

Loaded with a 6 core i7 8750H, 8GB of RAM, and 1 TB of SSD storage, the Zephyrus is a powerhouse of a laptop. If you want to play games, edit videos, or do some photoshop work, this laptop has the power to do it all.

Possibly the greatest thing about this laptop is the inclusion of an Nvidia RTX 2080 GPU. This is Nvidia's latest and greatest GPU, capable of blowing through any game you can throw at it.

The GPU is only so good, but you will need to pair it with a screen worthy of all that power. Luckily, the ASUS has a 144Hz 1080p G-sync panel that is absolutely stunning.

The keyboard is backlit and has a nice key travel, giving it as close to a desktop feel as is possible. The trackpad is nice and smooth and extremely responsive. No complaints on either. One thing that could be considered a con is the layout of the keyboard and trackpad. The trackpad is on the far right side of the laptop, causing a somewhat cramped experience around the number pad.
We could talk all day about how amazing this laptop is. Everything about it is top of the line, and will ensure you have the greatest user experience possible.

4. HP Envy 17t – Best Business Laptop
When it comes to business class laptops, you want to have the perfect marriage between looks and functionality. The HP Envy 17t has both sleek stylings, and the power you need for all your business needs.

Fast SSD
i7 processor
Sturdy build quality
There's nothing more frustrating than trying to show a co-worker something on your laptop, but with such a tiny screen they can't see what it is. That's one of the many reasons we suggest you check into the 17" business laptop the HP Envy 17t.

Any good business laptop will need processing power and memory to handle day to day business. The i7 8550u with 16GB of RAM is more than capable to carry you through the entire business day with ease.

The Envy 17t has Nvidia MX150 graphics with 4GB of dedicated VRAM. While it isn't quite as strong as a gaming GPU, it is more than capable for any business applications you may run.

The screen is a stunning 4k display with a resolution of 3840 x 2160. It displays vibrant colors and crisp images that make it a worthy companion to this laptops powerful specs.

If you plan on using a laptop for your job, you will want to make sure it is comfortable to type on. The keyboard on the Envy 17t is definitely comfortable, with a nice key travel and feel.

The HP Envy 17t is one of the most complete packages when it comes to business class laptops. The large screen, sleek design, and powerful specifications make it a great choice for any business man or woman.

5. LG Gram – Best Photo Editing Laptop
The LG Gram is definitely the lightest 17-inch laptop on the market. This gives it the portability to take anywhere, but it also has high end specs to allow you to edit your photos on the go, no matter where you are.

Lightweight
i7 processor
Beautiful screen
No discrete GPU
Build feels "cheap"
If you are a photographer or photo editor and you want to take your work on the go, most would opt for some form of a gaming laptop. However, LG has released a 17-inch laptop that delivers great performance in a lightweight package.

Photo editing requires a high end processor and plenty of RAM. Luckily, the LG Gram is equipped with an i7 8565u processor and 16GB of DDR4 RAM. More than enough for your photoshop needs.

The one area that the Gram is lacking is in the GPU department. With only the integrated Intel solution on board, you will lack the power to do super graphic intensive applications.

The screen on the LG Gram is a super high resolution 2560 x 1600. This gives it a nice 16:10 aspect ratio, and a pixel density that will please any graphic designer.

The keyboard on the Gram feels nice and responsive, but there is a bit of flex around the keyboard. The trackpad is smooth and tracks easily, making it a breeze to use in case you leave your mouse at home.

Finding a more portable 17-inch laptop is impossible, and one with such a gorgeous display as well. This makes it the perfect on-the-go companion to graphic artists and photographers.

6. Lenovo IdeaPad 330 – Best Budget Gaming Laptop
While the Lenovo IdeaPad is heavy and doesn't have the best battery in the world, it shines everywhere else. From the Nvidia GPU to the i5 Intel CPU, this computer will blaze through your daily work and all of your gaming needs.

Affordable price
Dedicated Nvidia GPU
Fast 512GB SSD
On the heavy side
Battery life worse than advertised
Lenovo is not necessarily known for their gaming laptops, the IdeaPad 330 should not be overlooked if you are on a budget. It does all the right things, and the cons are nothing more than compromises to keep the price low.
Key features & details
7. MSI GS75 Stealth – Best High Spec Laptop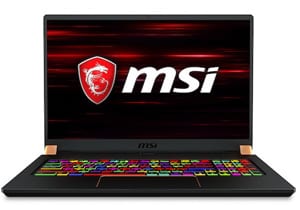 If you are looking for the most powerful all around laptop with a nice big 17-inch screen, the MSI GS75 Stealth is the winner…and it's not even close. With an Nvidia RTX 2080, a 6 core i7 processor, and a SteelSeries keyboard, this laptop is the king of kings.

Top-of-the-Line Nvidia GPU
Fast i7 processor
Fantastic keyboard
Terrible battery life
Only 1080p resolution
While this laptop is considered a gaming laptop, we have picked it as our overall top-of-the-line laptop. It has the speed and power to do not only gaming but graphic design, 3d modelling, run virtual machines, and much more.

Key features & details
8. ASUS Vivobook Pro – Best Thin and Light
While the ASUS Vivobook Pro may not wow you with it's looks, it certainly will with its performance. For such a light and portable laptop, it packs an i7 processor and a dedicated Nvidia GPU. Now that is impressive.

Extremely portable
Fast i7 processor
Full 16GB of RAM
Hard to upgrade
Boring design choices
You don't need to carry around a 10 pound laptop that is bigger than the back seat of your car to own a 17-inch laptop. The Vivobook Pro from ASUS comes in at around 4 and a half pounds and has a sleek and skinny profile.

Key features & details
Who Needs To Buy A 17 Inch Laptop?
Most manufacturers are making their notebook computers consistently smaller and smaller. While 15 inch used to be the norm, 13 inch devices are quickly overtaking that spot as top seller.
If the industry is constantly going smaller, why should you buck that trend and go bigger? There are clear advantages to a larger laptop, but only for specific types of users.
First and foremost, 17 inch laptops are aimed squarely at the gaming crowd. Just because you want the freedom to game anywhere you go doesn't mean you want to skimp on the display size!
It isn't just gamers who should go this route, however. If you regularly engage in image or video editing, a larger display is obviously a big plus.
Finally, a 17.3 inch screen means that your laptop essentially functions as a desktop replacement. If you don't mind a heavier model, anyone who wants a fully outfitted computer that can travel between locations could potentially pick one of these five contenders.
What Are The Main Downsides To A 17 Inch Laptop?
Notebook computers are designed for mobility, letting you work or play where you happen to be at the moment. That's why units with a smaller chassis and shorter display are becoming more popular.
You have to give some of that portability up when you pick a 17 inch model. By adding an extra two inches, the weight typically jumps into the 6+ pound range.
Weight isn't the only consideration here, either. With increased size comes a need to buy a new laptop case, as 17 inch models won't fit most normal sized carrying bags.
In terms of specs, battery life is going to be your big bottleneck if you buy a larger computer. With high end screens consuming more power, you can't expect to get 10+ hours on a single charge.
Exceptions exist, but 17 inch models less frequently include touch screens than smaller notebooks. That feature is now becoming the norm for smaller laptops, but you'll miss out on it with most of our contenders.
Are There Other Features To Consider In 17 Inch Laptops?
Bigger screen size is a nice feature, especially if you are a gamer or spend a lot of time editing photos. Display size isn't the only consideration with a 17.3 inch machine, however.
When the display size goes up, the chassis also has to bump up a size category. That means there's often room to fit in an optical drive and extra ports.
Many users still have plenty of DVD install discs, music CDs, and data discs filled with family pictures. If you don't want to go digital and give up your physical media, that can be the deciding factor in picking a larger laptop.
Hybrid computer fans have more of an issue when going with this size, however. There are a few hybrid 2-in-1 machines at a full 17 inches, although they tend to be bulky and hard to use in tablet mode due to the extra weight.
Finding A Spacious Display In A Portable Computer
From heavy office use to hardcore gaming and even just regular old web browsing, there's a 17 inch laptop that can meet your needs.
Did you find the perfect choice in our list of the best 17 inch laptops? Let us know if you plan to buy any of our picks, and give us a shout out if you see any other models that should be included in our list of contenders!
Frequently Asked Questions
What is the best resolution for a 17-inch laptop?
Generally you want to go with a resolution of 1920 x 1080 pixels or higher.  This will ensure a pleasant experience with enough pixel density to be pleasing to the eye.

Are larger laptops better?
Generally, yes.  The larger screen means an overall bigger device.  This gives manufacturers more room to put in higher quality parts.

Can you use a gaming laptop as a regular laptop?
Yes! The only real differences between gaming laptops and regular laptops are:
– Gaming laptops have dedicated GPUs
– Gaming laptops are usually more aggressive looking
– Gaming laptops generally have higher specs
In summary, gaming laptops are generally just high end laptops.
Is buying a 17" laptop worth it?
Yes. Not only are you getting a much larger screen for your viewing pleasure, but the added size also comes with a bigger and more comfortable keyboard in most cases. It's a win-win!