Design
The chassis of the T1005 hasn't changed at all from its predecessor the T1028 which is slightly disappointing since it shedding a few ounces would have been nice when holding it in the tablet form factor. Since the case hasn't changed they have taken their efforts to increase the build quality, the hinge does seem studier and they have tested it 15,000 times. They have also added some texture around the bezel and the plastic casing doesn't feel cheap but it doesn't feel luxurious either. Over all from three weeks of steady use I felt confident that I could put it in my purse throw it around a bit and I'd know that it would work when I got there. If you're not too familiar with my usage I can only say this about 60% the netbooks I test.
Keyboard & TrackPad
The keyboard is chiclet style and is responsive to the touch, there is also very little flex when typing at full speed. The shift keys could be a bit bigger for my taste but they didn't take much getting used to. The track Pad is not to my liking as they have separate mouse buttons on either side of the tiny space. However, this isn't really an issue since it has a 1366×768 capacitive touch screen. You won't need to use the track pad much except for the odd left click.
The touch screen needs a firm touch at times but is very usable, I fell into the touch screen work flow immediately. However when I started to work quickly I found the touch screen could have been a bit more responsive. I had to try to click things a few times to get screens to close and to switch tabs in browsers. This is of course a matter of Windows 7 not being optimized for touch, but with the T1028 I had similar issues with the screen not being responsive enough and Gigabyte issued an update and voila sensitivity issues were resolved. Fingers crossed they do the same thing after they read this review. (As that's actually the way it went after the last review lol).
Next Page Performance, Battery Life ,Video Review & Conclusion

Music & Multimedia
If you want to use your netbook to watch movies or listen to music it produces a decent sound for something of this size. You won't need to plug in external speakers to fill your home office with sound. When listening to music I was pleasantly surprised that it only sounded the faintest bit tinny. It also played 1080p YouTube Videos seamlessly and native 720p video files with out a hitch!
Performance
The 3DMark06 tests didn't stack up in favour of the T1005 as it performance was well below the average netbook score of 293 with only a 157. To give you an idea the ACER D255 scored only 151 which is about on par with the Samsung N150 Plus (156) and the Toshiba NB 305 (151). Once you flip into the Ion range you're looking at number of around 2,500. So gaming or any program that requires a lot of graphics performance isn't going to be the most fluid experience. Keep in mind HD content plays fine so video acceleration for those tasks are worked out.
Battery Life
This has to be one of the most interesting battery tests we've done in a while, since we get two drastically different results because of USB 3.0. With the high speed USB turned on we got 5Hr 35 Minutes, with it turned of we added 58 minutes and are seeing 6 Hr 33 minutes of battery life. This where Gigabytes smart manager came in handy. There is a physical button on the side of the computer which turns on the smart manager, you can access a number of tasks such as screen brightness or the ability to charge via USB when the computer is off or in sleep mode off once it reaches a certain level of battery life. One can also turn the USB 3.0 port on and off which the battery tests to indicate add an hour of life to the unit.
One addition that I would like to see in the Smart Manager is the ability to pull up a virtual keyboard while in tablet mode. Since we are obviously going to need one while in this mode and the standard windows one is crap you'd hope that a premium netbook would have this small feature integrated.

Conclusion
If you need a mobile computer that turns into a tablet while you're on the go then this is a pretty good choice. Its aimed at the business user with its touch screen, svelte case, smart manager software, textured bezel and Windows Home Premium. Its keyboard is good and responsive and the hinge has been through a 15,000 turn test. The only thing that has me hesitant on this netbook is the price, at $600 its starting to go head towards Ion netbooks and subnotebook range. There are also a few minor tweaks like a custom virtual keyboard in the smart manager and an SD card slot with a spring I would like to see added. Overall with out the price I'm a fan, so if you've got a couple of extra bucks to spare I wouldn't think twice about buying this unit.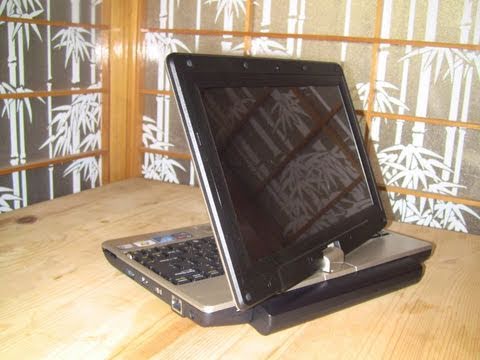 Gigabyte T1005M Netbook Specification Sheet
Processor: Intel Atom N550 Dual Core Processor (1.5GHz)
Operation System: Microsoft Windows 7 Home Premium
Chipset: Intel NM10 Express chipset
System Memory: 2GB DDR3 SO-DIMM (Max 2GB)
Video Chip: Intel® GMA3150
Screen: 10.1″ HD Ready, WXGA 1366×768, with LED back-light ,
TFT-LCD Multi Touch Panel (Capacitive)
HDD: 320GB 2.5″ SATA HDD
Port: USB(3.0) X 1, USB(2.0) X 2, eSATA/USB Combo, Mic-in, Earphone-out, D-Sub, RJ45, 4-in-1 card reader(SD/MMC/MS/MS Pro), Express card, DC-in
Audio: 1.5 Watt Speakers X 2, Internal Mic-in
Bluetooth 2.1 + EDR
3.5G
Module: HSDPA Antenna build-in, HSDPA Module supported (Optional)
Webcam: 1.3 Mega Pixel Webcam
LAN Ethernet: 10/100/1000
Wireless LAN: 802.11b/g/n Wireless
Security: Kensington Lock
Battery: Li-ion 6 cell, 41Wh, 7650mAh
Dimension: 265(W) x 214(D) x 41.4(H) mm (including 6 cell battery)
Weight: ~1.48kg (with 6 cell battery)