The Gigabyte S1080 is a Windows 7 tablet aimed at small to medium businesses who want to be mobile with a touch screen.
Quick Look
It has a 10.1″ (1,024 x 600 resolution) capacitive screen that is supplemented by a pointer style device on the right side and a pair of left and right mouse buttons on the left. It sports an Intel Atom N570 (1.66GHz) along with 2GB of RAM and a 320GB hard drive. Its a pretty bulky 895 grams and measures 270mm wide, 173mm deep and 14.94mm thick; it's versatile because of its long list of premium ports including USB 3.0.
And if you're looking to pick it up, so far you can grab the S1080 for $650 from: ExcaliberPC, Sears, Dynamism and B&H.
Design
The S1080 won't be getting any awards for being a sexy sleek tablet, its boxy design wit rounded edges makes it feel functional and work related, which it is, so fair enough. Gigabyte has tried to add a bit of svelt into this 10.1" tablets design with the matte black finish that don't do too badly at reisting finger prints. However, any aethetic gained is lost with the racing car like stickers they have placed all along the bottom of the tablet. The exposed screws are also usually an indicator or a more affordable tablet because costs are lowered through the assembly process, although the $650 price tag doesn't quite match up.
The largest design flaw with the S1080 comes with the position of the fan which is in the top right hand corner of the tablet which where your hand naturally falls when holding it in portrait position. We'll discuss heat issues of the tablet a little further down in performance, but it does need to be said, this tablet runs hot.
Display
This 10.1 inch display comes with a 1024 x 600 display resolution and a nice little add on with a matte screen protector to ensure that the tablet can be used out doors. I found this to be a great addition to the device since I'm always purchasing a foil for my tablets which can range from $20-35 since this is something you should cheap out on because it can effect the responsiveness of the touch screen.
Ports, Webcam & Battery Life
The S1080 has a wide variety of ports, specifically one USB 3.0, one USB 2.0, one Gigabit Ethernet, two audio jacks, an SD card reader, a SIM card slot, a VGA port and a slot for an additional battery. It also has a a pair of speakers, an in-built microphone and Bluetooth 3.0. Its got all the ports you'd expect from a netbook, but wit USB 3.0, which is something that the user has to be very aware of. Not at devices with USB 3.0 need to be turned but Gigabyte products do, they've included the smart task manager, so its very easy to make this happen. The reason you'll need to be aware of your USB 3.0 because they consume power when they are on, regardless if they aren't plugged in.
When looking at battery life with ports on vs ports off, on we're looking at 3:45min and off around 4:15minutes. This was done with laptop magazine's battery tests which is an aggressive surfing test that is usually aimed at notebooks. But it seems to be accurate to what I noted during my routine use with moderate You Tube use.
How does the Gigabyte stack up against other Windows 7 tablets? Actually, it did pretty well! The ExoPc lasted 3 hours and 44 minutes the CTL 2goPad went for 3:15. However, stack it up against the iPad which is at 10 hours, its not impressive at all.
The 1.3-megapixel webcam provided images of acceptable quality, though the picture turned dark and shadowy in areas without a great deal of ambient light. When speaking on Skype, our picture was also a bit blurry.
Touch Experience
I don't deny that Windows 7 has some issues when it comes to touch. The Start Menu is really difficult to navigate with one's finger and dragging windows around on a Slate doesn't make a ton of sense. However, it's very easy to put a good touch UI on top of Windows (see HP's Touchsmart or Lenovo's SimpleTap) and, with the right desktop theme settings, widgets like the minimize / maximize / close buttons can be large enough to tap with ease. Microsoft could help out by providing some kind of a touch UI that users can activate or by at least making a touch-friendly theme available. It would also help if the company's own applications – Microsoft Office 2010, for example – had features that took advantage of touch. We'll be seeing these features roll out in Windows 8, but in the mean time those who need a tablet for business will have to suffer through until that gets released next year.
Software
If you're launching a Windows 7 tablet you've gotta have some sort of UI because windows is not touch friendly.  Gigabyte's solution is called Touch AppPark, a very scaled down app launcher that gives you access to a limited number of pre defined programs.  They are divided into five different categories: Work, Community, Play, Media, Other.  When you select a category, a row of large shortcut icons to its apps appears at the top of the screen. Unfortunately, you're stuck using the programs they've outlined and there is no way to add in your own programs or subsitute Windows Media Player for say VLC Player. So really you're better off just using the start menu.
Performance
The S1080 is a netbook-centric tablet running the latest dual core Atom with the 1.66-GHz Atom N570 CPU, 2GB of RAM, and a 320GB Hard Drive which gives it very decent preformance. In anecdotal use, the tablet alternated between being responsive and sluggish and I often found myself starting tasks unintentionally. The autorotate was painfully slow and even caused video's to pause while it was changing orientation.
On PCMarkVantage, a synthetic benchmark which measures overall performance, the Slate scored 1,657 which is much higher then the ExoPC at 1,530 and much higher than the CTL 2goPad (1149) and a bit better than the average Netbook (1,338).
The tablet's mediocre score of 147 on 3DMark06, a benchmark that measures graphics prowess, matched the 143 provided by the CTL 2goPad, and was similar to those provided by 10-inch netbooks with integrated graphics such as the Samsung NF310 (147).
So its not a power house for multimedia but then again because it runs very hot I don't know how much multimedia you'll be wanting to use on it. This is the one corelation that I wish this tablet didn't have, the more you use it the hotter it gets, its going to be an issue in any hot climate country, especially since the heating vent is right where you would normally place your hand to hold the tablet in portrait mode.
Verdict
If you need a Windows 7 tablet in your life, then the Gigabyte S1080 its bevy of ports including 2 premium USB 3.0 ports along with everything else you'd usually find on a netbooks gives this tablet more connectivity options then your average Android tablet. However, stacking it up against Google or Apple has the S1080 looking sorry with its battery life but up against other Windows 7 tablets its holding its own at the top of the pile. However, it runs hot, its got a very slow accelerometer and its touch screen can use an firmware update since I was constantly clicking on many items accidentally.
If you're looking for a Windows 7 tablet with great connectivity and you don't mind it doubling as a hand heater, then the Gigabyte S1080 should be a top pick among Windows 7 tablets.
If you want to check out our video review, we've got that right below and beyond that is the unboxing and size comparison.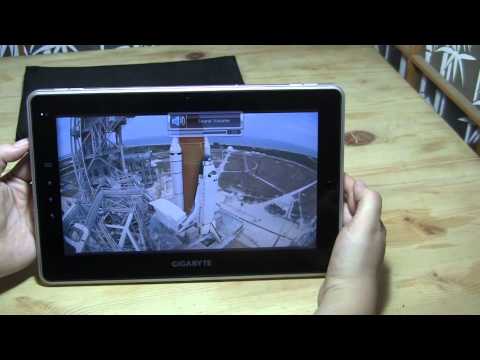 Unboxing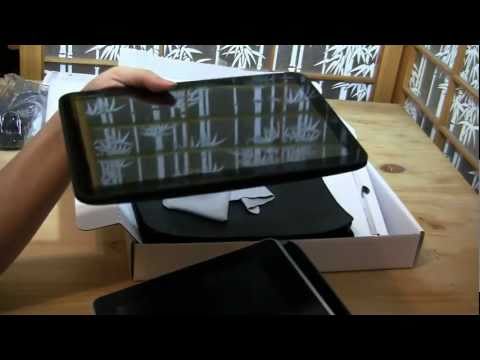 Buy at: ExcaliberPC, Sears, Dynamism or B&H.