We've finally got our hands on the JooJoo tablet over at IDF 2010 – an Atom Pinetrail / Nvidia ION based tablet that's 12-inch in size. The hardware certainly looks sleek though we're not too sure about the interface, but at least it's trying to be different.
Here are the specs – an Intel Atom N450 processor, 1x USB, Nvidia ION graphics (first gen), 12.1″ 1366 x 768 multi-touch capacitive display with fingerprint resistant coating, 802.11b/g/n Wi-Fi, Bluetooth 2.1+EDR, 4GB SSD, 5 hour battery, accelerometer and ambient light sensor. For ports – a single USB which just recently got a firmware update to make it functional, audio jacks and a charger port. It comes in at 0.7″ thick weighing 2.4 lbs / 1.1kg.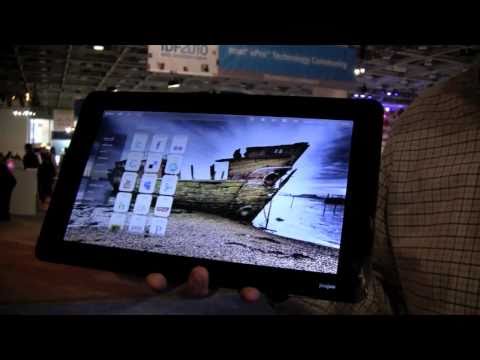 It's been on sale for a couple of months priced at $500 and you can order directly from thejoojoo.com.