If you want to know about cheap tablets coming out of China Shanzai.com has the scoop on Shenzen tablets. The put together their top three picks and then compare them!!
First we've got the HeroTab RK7, its got a unique filofax look and feel, hides the tablet for security or gives a more serious look and style to your device. The Product build quality is excellent, solid feeling, nice buttons and the glass finish of the screen makes the device feel higher quality. Under the hood it has the TCC8902 meaning it has good 1080p video performance and YouTube experience. The HDMI out brings good HD performance to the big screen. It does sport a resistive touch glass screen shows far less finger prints but could be more responsive and only has a battery life of about 3 Hours.
Next up is the WITS A81 tablet which has a a more "polished" user interface experience with Android 2.1. It also boast a faster UI experience (due to 2.1 and likely the TI OMAP Cortex A8 600MHz processor). Its also the most responsive keyboard the guys over at Shanzai.com have handled to date. If they had just added a webcam it would have made it the perfect USD 200 tablet.


The final tablet is the Moonse APad 7002, and like the HerTab RK7 it offers full smooth 1080p video playback (of local wmv file format but not the .h264 file format) as well as Very good YouTube video playback. It also boasts Good gaming performance mainly due to the Telechip processor and accelerometer responsiveness. Its 3 hour battery life could be better, but good considering it's a 1400mA battery. A strange aspect is that it has no dedicated hardware buttons mapped to adjusting the volume when playing videos or music. The one big complaint is that the webcam image quality is poor.
Now that you have the skinny on the three tablets watch the video comparing them!!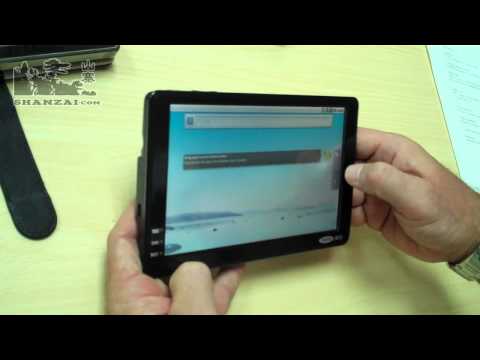 Via Shanzai.com