The MasterPad 11.6-inch Windows tablet made a brief appearance in Israel last month, looking pretty wicked and now it's at IFA 2010 and ready to take on the world and of course crush the iPad while doing so. Charbax talks to a Cyber1 Ltd. rep who gives us an extended tour of the tablet, comparing its specs to the iPad at every chance and deeming the MasterPad superior.
The specs are great, as far as netbook innards go – an 11.6″ capacitive touch screen, 32-64GB SSD, Intel Atom N450 processor, 1080p HD playback support (specs mention a GMA 500 chip, but I'm pretty sure it's a Broadcom Crystal HD card instead), Bluetooth, Wi-Fi, ambient light sensor, accelerometer and Windows 7 Home Premium all housed and readily accessible (cover) within a metal alloy chassis. For ports – 2x USB 2.0, HDMI, SD Card reader, SIM slot and a docking port that will have LAN, HDMI and additional ports. All this weighing in at 990g with a 35Wh battery lasting 4 – 5 hours. No mention of that IPS screen we heard over in Israel.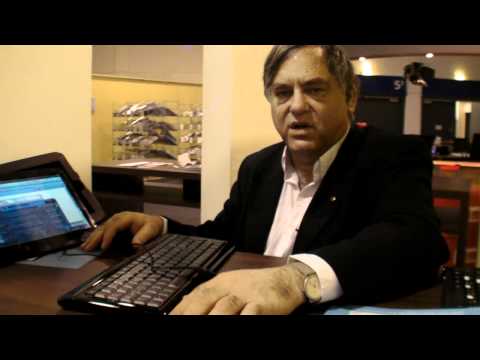 The MasterPad will go on sale next month (October) and will be available in Europe, the US and possibly other countries though pricing has not been announced. The rep says the 32GB model will be priced similarly to the 64GB iPad. This tablet is also available as the WePad in Germany or the DreamBook ePad L11 HD in Australia for example. Next year the company will be adding a 10.1″ Android tablet to their portfolio.
Source: ARMdevices.net