We spotted Dell's bargain base model Dell Mini 1018 netbook over at the Dell booth at IFA 2010 along with related accessories. The Mini 1018 has the same chassis as the previous Mini 1012 expect the base is black instead of white and the buttonless trackpad gets ditched for one with real buttons. Specs are nothing to shout about – a glossy 10.1″ 1024 x 600 display, an Intel Atom N455 processor, 1GB RAM, 250GB HDD and Windows 7 Starter.
We saw this netbook launch in Europe / UK and the US last month for a sub $300 price mark. It doesn't offer any of the high end features that the previous Mini 1012 offers – HD display, Broadcom Crystal HD card, SRS Premium Audio, personalization among others.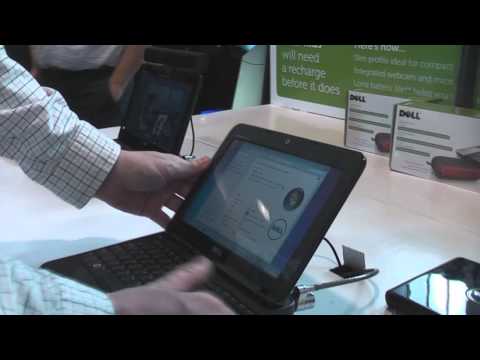 Then there were a couple of official accessories nearby – A speaker bar and DVD burner.  The speaker being a long bar that connects along the top of the screen lid and the DVD looking like a typical DVD burner.