Welcome to the new NVIDIA TegraZone 3rd person shooter Max Payne Mobile. Having just been released for iOS users, it is now available as of June 13th  for Android users. This excellent collection of graphics, game play and story line is sure to have Tegra enthusiasts scratching their heads. Will this apocalyptic game live up to the Max Payne series as we've seen before? Lets dive in.
Brought to you by Rockstar, Max Payne is available on the Google Play app store for a pricey $2.99. Having such a high price on a game doesn't come easy, therefore we are introduced to a brand new set of touch controls, analog camera controls and customizable Gampad-ready controls at your leisure.
If you haven't seen the movie Max Payne before, you will be delighted to be introduced to the forever action packed story line of a rampant NYPD police officer who comes home to find his wife and child are murdered in clod blood. The culprit is the highly dangerous drug Valkyr. Step into the mind of Max Payne as the game's storyline is advanced by the player following Max's internal monologue all while determining what his next steps are going to be. Many of the levels involve surrealistic nightmares and drug-related hallucinations of Payne.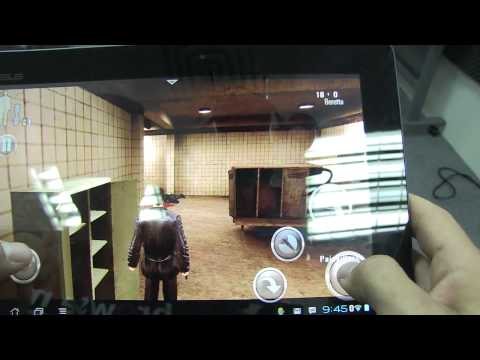 This game is ready for NVIDIA Tegra 3 wielding devices like the ASUS Eepad Transformer Prime or the HTC One X. The Graphics tend to be a bit square and edgy; similar to the PlayStation platform you may be used too. Be sure to ramp up your Tegra 3 device and uncheck "Power saving mode". During game play you'll notice it is a lot like Grand Theft Auto III, but this comes with the Rockstar creators, as the graphics are comparable and derives from the same family of developers. Take a trip to the Google Play store and see it for yourself! Check out the hands on video and stay tuned for more game reviews and hands on play coming soon.