Hybrids are the trend at this year's Computex in Taipei. While we are familiar with the idea of hybrids thanks to the ASUS Transformer, the new wave of hybrids with Windows 8 that we're seeing now are very exciting. Intel has distinguished itself above all so far, but AMD will not stand back in the wings. Today AMD presented their prototype of a large 11.6-inch Windows 8-unit, made with Compal, which can't really be classified as tablet or notebook.
AMD mentioned that the device would be "under 20 mm". At least in this area they are not quite up to the standards set by their competitor Intel, because the prototype is not particularly attractive or particularly thin at this stage. Otherwise, it offers us the same features we have seen with the competitors.
It is running an AMD Trinity APU, which one, we're not sure. Since it is a reference design it may change when it hits final production.
We'll find out the pricing and availability later on of course.
Update: We grabbed a better video here: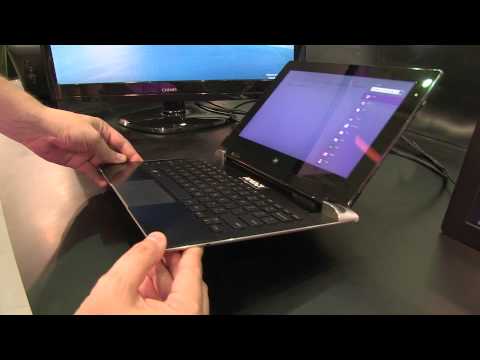 Below you can watch the presentation of the prototype and a hands on video from Nicole.