The Lenovo Thinkpad Tablet was on display at the Intel booth at Computex 2012. They were calling it the Lenovo Slate even though it clearly had ThinkPad branding.
Though Lenovo won't say much about specs, we do know it's running some unspecified Intel Clover Trail processor, and the battery is expected to max out at 10-plus hours on a charge. Taking a tour around the device, we may as well begin with that 10.1-inch screen, whose 1366 x 768 resolution seems pretty standard for a Windows 8 tablet of this size. On board, you'll also find a pair of 2- and 8-megapixel cameras, as well as micro-HDMI and a docking connector, which suggests peripherals are on the way.
We weren't actually able to go hands on with the device and give you a walk around of the tablet, but an Intel Rep did it for us. After you watch the walk through you'll understand why they didn't want anyone to touch it, they obviously didn't want anyone saying any thing interesting or valuable about Windows 8 running on Intel based tablets.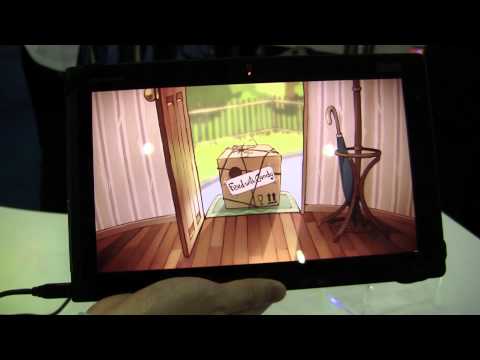 Photo credit – Engadget