The Samsung Galaxy S3 was debuted at a London launch event earlier this month, so it's fitting that London based editor over at The Verge should already have his Galaxy S3 up.  In the US we are expecting a June 1st shipping date from Amazon where the device is avaible for pre-order for $799.
I was surprised to learn that overall Vlad gave the phone an overwhelming thumbs up as shortly after the event he released a post "How Samsung Broke My Heart" which basically goes over why the phone is boring.  So it seems that after time spent with the device he is somewhat smitten.  Like any device there are obviously issues one of which is Samsung's overall attitude towards updates.  The company has a bit of a track record of being slow or completely neglect Android updates.
Here is a small section of his wrap up of the Samsung Galaxy SIII, below you'll also find his wrap up video which compares the handset to the HTC One X.  We encourage you to check out the review in its entirety since it is quite a good read.
the Galaxy S III is a technological triumph. Not at first sight, perhaps, but Samsung has done the overwhelming majority of things right. The camera is easily the best I've used on an Android device, the processor claims the title of benchmarking champion, and the customizations layered on top of Ice Cream Sandwich are mostly unobtrusive and sometimes even helpful. They never really gel into one coherent user experience, meaning you'll have to learn what each new feature does individually rather than intuiting it from the phone's general behavior, however that's a trifling complaint when compared to our usual disappointments with Android OEM skins.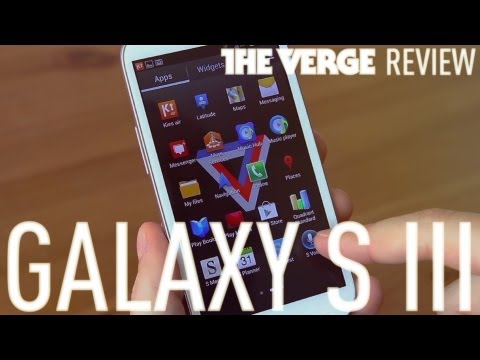 To give you a refresher the Samsung Galaxy S3 comes with a 4.8 inch display and a 1.4GHz Exynos 4 Quad processor with 1GB of RAM. Camera wise it is sporting an 8-megapixel rear-facing and 1.9-megapixel front-facing cameras with 990ms start-up time, 3.3fps burst mode, and best-shot selection. Storage wise there are quite a few option with 16 or 32GB with 64GB on the way, if that's not enough it also comes with a with microSD expansion. Connectivity wise we're seeing Bluetooth 4.0 support, GPS with GLONASS reception, high-throughput 40MHz 802.11n Wi-Fi, NFC, and a relatively large 2,100mAh battery.