The ASUS Padfone has finally made its way on to the Taiwanese market and we've gotten a hold of the Padfone (handset), the PadFone Station (tablet) and the PadFone Station Dock (keyboard).  This is an interesting device because the PadFone actually docks into a 10 inch tablet which will charge the handset and the tablet actually docks into a keyboard bringing it inline with the ASUS Transformer line up.
We're really excited about his product so much so that we've actually gone out and signed a 2 year contract to get all 3 pieces, the whole lot set me back 11,900NT ($405) and my monthly contract is $30 with unlimited data. If I just wanted the phone it would have been 4900NT ($165).  I'll be doing some more videos of how I am using this device and what type of user I think should consider taking the plunge.
While we work on our full review, here is our detailed unboxing video: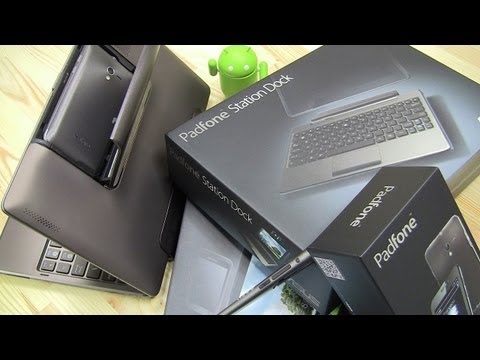 The ASUS Padfone Specifications are:
4.3 "Super AMOLED QHD display (960 × 540)
1.5 GHz Qualcomm Snapdragon S4 dual-core
Adreno 225 GPU
16GB + microSD memory slot
8MP camera with F2.2 main, 5-Element lens, VGA front camera
SonicMaster sound system
1.520 mA battery (+9 by charging the battery in the tablet portion)
Android 4.0
9.22mm thin
HDMI-out, A-GPS, compass, HSPA +, N-wireless, etc.
ASUS Padfone Station the comes with a 1280 x 800 screen resolution on its 10.1″ display.  If this isn't satisfying your specs needs we've got all the details in our product database here.