Samsung has just released the Galaxy SIII and the big question is how does it stack up against the iPhone 4S. We got to do a visual comparison which we've got on video below. There are several features that over lap, but the biggest difference is the screen size as the iPhone 4S sports a 3.5 inch display versus the 4.8 inch in the SIII.
Both phones support voice recognition and have fully-integrated voice controls. Apple has Siri and Samsung has S Voice. You can ask both of them to do tasks like send a text, make a call, check the weather or schedule and appointment. Samsung has only shown off S Voice on stage so there is no way of knowing how they will fair when put head to head in the real world until the SIII is released.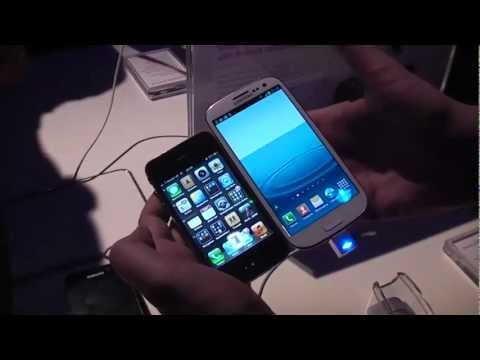 The Galaxy SIII has improvements over Android's stock notification with Smart Alert, if you miss a call, the phone will vibrate and flash an LED the next time you pick it up. iOS 5 will let you know your phones activity as well as those of your apps, texts also don't show up front and center anymore, they are discretely at the top. Which is better? From what I've seen I'm leaning towards Smart Alert.
The SIII also offers S Beam, which lets you pair your phone with other SIII to share photos, videos, files, albums, etc. via NFC over a Wi-Fi connection. Similarly, Direct Call knows to dial someone automatically if you have their contact information open and move your SIII up to your ear.
In comparison 2 iPhone 4S users can connect via iMessage, a free instant messaging service that is free between a pair of these devices. It also has Find my Friends, which uses GPS to help you locate your other iPhone 4S toting pals on a map. Video chat with other iOS devices is available through FaceTime but Direct Call is a neat trick that the iOS hadn't thought of yet.
We'll have to wait until the Galaxy SIII is released to judge the camera and the over all functionality, but the above video should give you a good start.