The Samsung Galaxy SII was one of the most popular Android phones of 2011 and the release of the Galaxy SIII has left many wondering how Samsung would improving on such a successful product.  We decided to shoot a video comparing the SII to the SIII and take a few different fetures to see how exactly the new handset has moved forward…or not.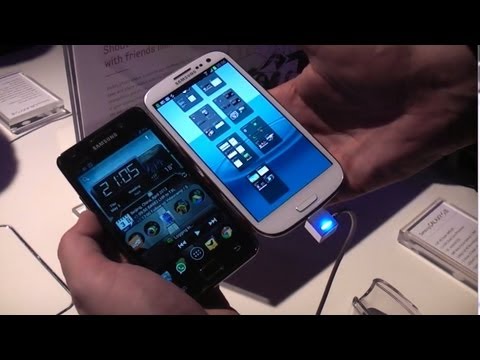 Processor
The Samsung Galaxy S2 has an Exynos processor (formerly 'Orion'), running at 1GHz, the S3 has gone quad core with the Exynos 4 Quad – it runs at 1.4GHz. To give you some hard numbers the S2 scored 4171 on Quadrant and the S3 sees a huge jump to 5642. Accordign to Samsung it is also supposed to consumer 20% less power.
Screen
The Galaxy S3 aims to take on the iPhone 4S with its Super AMOLED HD display with a resolution of 1,280 x 720 screen. While it's display is actually half an inch bigger than the S2′s 4.3-inch, 800 x 480 display, the super thin bezel actually makes the phones roughly the same size.
Battery
A lot of room for debate here as well. Those who are interested in the outcome of the Galaxy S2 VS Galaxy S3 mash-up will be particularly interested in this feature. In short the Galaxy S2 sports quite a standard battery with Li-Ion 1650 mAh. We aren't sure about the Galaxy S3, however, it is predicted that it will come with a good-looking, slim 2250 mAh battery.
Camera
The Samsung Galaxy S3 is an 8 Megapixel camera with extras that include: autofocus, LED flash, geo-tagging, touch focus functionality, face/smile detection, image stabilisation and 1080p video capture (the S2 also had a 8MP unit). The front camera actually takes a step down – you'll find a 1.2MP 720p camera in the front of the S3 for video calls or self-portraits while the S2 had a 2MP unit. The S3 is also capable of full 1080p HD playback.