Samsung has finally unveiled the Samsung Galaxy SII Smartphone and it is everything we hoped it would be. This 4.8-inch Smartphone comes with a Super AMOLED display at 720p resolution, 8-megapixel primary and 1.9-megapixel front-facing cameras with 990ms start-up time, 3.3fps burst mode, and best-shot selection (similar to the HTC One series), 16 or 32GB of storage (a 64GB version is coming later) with microSD expansion, Bluetooth 4.0 support, GPS with GLONASS reception, high-throughput 40MHz 802.11n Wi-Fi, NFC, and a relatively large 2,100mAh battery.
The Samsung Galaxy SIII has a lot to offer, we've rounded up the features for you here:
The Galaxy SIII doesn't disappoint as it comes with some high high tech features such as eye tracking software. Samsung Smart Stay technology actually watches us using the front facing camera so the SIII knows if you're watching the handset or not. The feature will allow you to linger on an email or ebook with out having to reactivate the screen.
S Voice is a Siri-like customized voice recognition system that allows the phone to recognize a variety of commands at any time, unlike Siri it doesn't talk back to you, it simply shows you the relevant information. You can choose between 4 commands to activate S Voice, Hi Galaxy or Hi Buddy where demonstated during the launch event to check directions and weather. It understands US & British English, French, German, Italian, Spanish & Korean.
S Beam is an enhanced version of the Android Beam which launched in Android 4.0 and allows large files to be transferred between phones quickly — a 1GB file within 3 minutes.
"Pop up play" is a feature that is very unique that lets the user watch a video anywhere on the screen while continuing to use other apps. This really demonstrates the multitasking capabilities of this handset.
Face Zoom and Slide Show allows you to double tap on a face to zoom in. An automatic slide show generation zooms in on faces as individual pictures for pictures with lots of people.
Social network and camera integration allows for automatic tagging of pictures, and the option to send images directly to those identified in them, called Buddy Photo Share, or display social media profile information on screen. Group Tag lets you tag multiple people in one go, if you set up a group first.
You'll also get 50GB of free Dropbox storage for two years.
Smart Alert technology will actually let you know when you've missed calls, texts or impoartant messages and vibrate when you pick it up.
The Samsung Galaxy SIII will be available in 145 countries through 296 mobile operators around the world at the end of May starting with Europe Asia and then the middle east. It will launch in Europe first on May 29th and a 4G version will come to Kora, Japan and North America in the Summer.
Aaron over at PhoneDog has already gotten a demo of a few of the Galaxy SIII features in a video: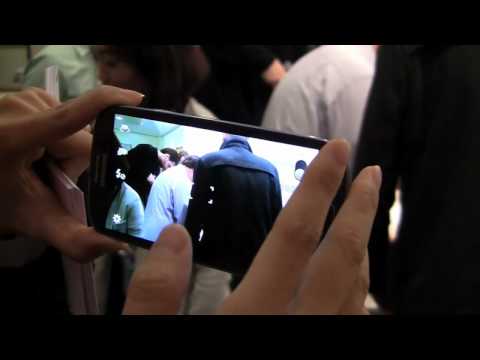 Samsung Galaxy SIII Specifications:
Screen:
4.8" Super Amoled HD display
Storage:
16/32/64GB depending on model, plus expandable MicroSD card
Cloud storage:
50GB Dropbox for two years
Colour:
Pebble blue or marble white
Battery:
2,100mAh (wireless charging optional extra)
Camera:
8MP rear; 1.9 MP front
Resolution:
720 x 1280 px (306ppi)
RAM:
1GB
Dimensions:
136.6 x 70.6 x 8.55 mm
Weight:
133g
Operating System:
Android 4.0.4
Processor:
Exynos 4 Quad (1.4GHz)


Press Release

>