While it is very cool to run Android 4.0 on my HP TouchPad, I do miss a lot of webOS features (though I see a lot of webOS in parts of Ice Cream Sandwich, like being able to swipe individual notifications from the list to clear them, or close an app in the recent apps list by swiping). A RootzWiki forum member has posted a utility that replaces the stock Android 4.0 recent apps list with a webOS-looking app switcher called webCM9.
Like in webOS, you can swipe left and right to see your recently used apps, and swipe up to remove an app from the list. Unlike webOS, swiping to remove an app from the list does not completely close the app. The recent apps list still works like it does in Android 4.0. webCM9 basically just gives that recent apps list a webOS look.
If you want to get the full effect and be able to access the recent apps list by swiping in from the bezel (in this case from the left and right bezels, not the bottom bezel, since that's where the menu bar is), similar to webOS, you'll have to install a 3rd-party app called Task Changer Pro.
webCM9 has to be installed via ClockworkMod Recovery, since it changes the stock Android 4.0 UI. The utility is compatible with CyanogenMod 9 Alpha 2, and CM9 nightly releases starting Feb. 28 through Mar. 5 (and newer). Check out Brad Linder's quick hands-on video demonstrating webCM9: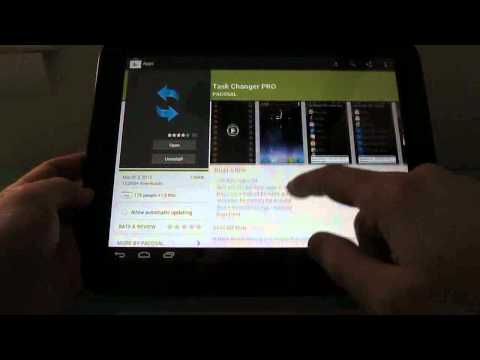 Via Liliputing, Source: RootzWiki forum