When Toshiba first announced the Toshiba Libretto W100 at a press conference last month, I didn't have much time to spend with the device but the other day I had a chance to take a closer look at one at the Toshiba offices here in Japan.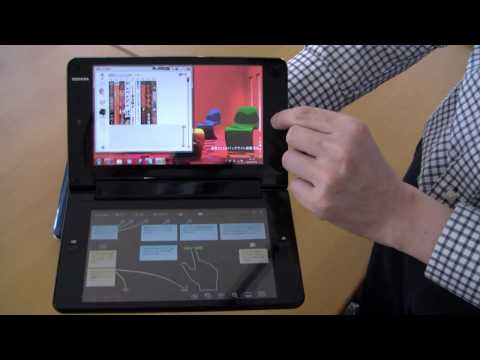 Let's just recap the specs:
Intel Pentium U5400 (1.2GHz) processor
Intel HD graphics
2x 1024 x 600 multi-touch 7-inch capacitive displays
62GB SSD
2GB RAM
1.02 MP webcam
802.11b/g/n Wi-Fi
Bluetooth
2 hours with 4-cell, 4 hours with 8-cell battery
699g (4-cell) or 819g (8-cell)
WiMAX, 3G (availability varies by region)
For ports – 1x USB 2.0, microphone jack and Micro SD card reader.
Virtual Keyboard Bliss
I am still blown away with the keyboard. Lots of choice with five keyboards including some split ones and you can even turn on a Touchpad (activates a mouse cursor) which goes really well with the split keyboards and this basically turns the W100 into a 7-inch notebook. It was a pleasure to type on the keyboards thanks to the responsive multi-touch capacitive 1024 x 600 displays and haptic feedback (only available on the bottom display).
Customization options are plenty for the keyboard – you can turn off keyboards that you don't like, turn off haptic feedback and / or toggle sound effects for key presses. The keyboard itself can be toggled on or off with a hardware between on the left bezel.
Speaking of the haptic feedback – one of the developers of the device fought hard to get it implemented and eventually won the right to have it in there – kudos to him! It really blows standard virtual keyboards away.
Made for Reading Books
Reading books on the Libretto W100 seems like it would be a natural thing to do and for a short few minutes I did get to flick through pages of a Japanese novel, working it on both screens, but that's clearly not enough to form an opinion on how well it'd work.
I had no idea what software was running (most likely unique to Japan) but on this matter I was told that the Libretto W100 will be shipping with Amazon Kindle preloaded in countries where it will be available.
Bulletin Board is the Main Interface
Toshiba is using a customized version of their Bulletin Board software for the Libretto W100 and I suppose this is the main interface of the device which makes navigating Windows much less of a chore as the interface is built for touch. From this interface you can do things such as access open programs, access settings, volume, save webpages and images, scribble down notes or draw pictures.
There are blank canvases called boards that you can create on which you can place stuff on – images, saved webpages, gadgets like sticky notes, a clock, calendar and so on. These boards can be cycled by flicking left or right on the screen. Most of the boards are filled up with guides on how to use the device.
You don't have to use this interface if you don't want to – it can be toggled on or off with a hardware home button on the right screen bezel.
Windows Gets Helper App For Use With Dual Screens
Toshiba has tacked on a helper app on the standard Windows 7 interface. Tapping the titlebar of a window brings up a popup that helps you move the window to only one screen, the top one or the bottom, or both and allows you to resize them.
Normally you probably wouldn't need this but by default there is no mouse cursor available unless you toggle the touchpad app on.
1080p HD Video Playback Working Well
There was a portion where I was playing back 1080p movie trailers on one screen which didn't make it to video – playback seemed to work very well with CPU usage hanging around 8%.
I would have loved to do some other benchmarking tests but there was no time for that.
Compact and Light-weight
For comparisons sake, I brought along my 10-inch Samsung N150 netbook to compare size. It obviously has a much smaller footprint though thickness was just only a little less than my netbook.
Weight wise it seemed pretty comfortable for one hand though the real test would be holding it for long periods of time – I only had minutes. Oh, and compared to the netbook that I have it is certainly much lighter.
Deal breakers
As interesting and unique as the Libretto W100 is there are a few points that might be deal breakers for you. First and foremost is the price. This will retail for about 125,000 yen in Japan (definitely $1,000+ in the US). Next up would probably be the low battery life. I did not discuss this at the meeting but looking at the technical specs you're looking at 2 hours with the 4-cell battery or 4-hours with the 8-cell battery. Then there's probably the speed – This device packs one of Intel's latest Pentium ULV processors – The U5400, so I would expect it to be snappier than any low end CULV notebook I've tested so far but it seemed slower than I expected, which might have to do with having to power two screens with a larger overall resolution. Last of all would probably be the heat and noise. The top panel where the motherboard is housed gets very warm and the fan was very audible on occasions. The hardware side of things is not yet complete so hopefully they can iron out some of these issues before launch.
Release Date / Pricing
I can't comment on US pricing and availability (there are prices and dates out there but I am told their US subsidiary has not yet made an official announcement on the pricing). I can only tell you that it is coming to Japan late August with a price forecasted to be 125,000 yen.
European models with get 3G, Japanese models 3G and WiMAX and US models will have neither of those.