Acer has just announced a new Ultra thin that measures on 15mm thick and comes with Nvidia GeForce Graphics, the price is the real kicker here as it will be starting at 499Euros. Under the hood he wasn't specific about what processor it would be running, only that they have to wait for Intel to announce specifics, which means it will be seeing it run Ivy Bridge. It has a variety of ports including Ethernet, VGA 2 x USB 2.0, 1 x USB 3.0, HDMI, audio jacks, multicard reader and a kensington lock. It has a 1336 x 768 HD display and weighs in at nice and light 1.4Kg.
Update: We just spent some time talking to the product manage and it seems that the Aspire V5 will also have a Aspire One cousin that will be launching with Celeron and Pentium chip start and will be priced at 399€.
Forgive the confusion during Acer's rebranding of their divisions. From now on Acer Aspire One will refer to Netbooks, Acer Aspire will refer to their notebook line up. The Aspire V5 Series has a 11.6 inch which will not come with the Nvidia graphics options, the 14″ & 15″ ultra thins will. It is only the 11.6″ V5 that will head to the Netbook space as the Acer Aspire One V5. So beware when purchasing, this small distinction is the difference between a Celeron processor and the latest Ivy Bridge Core i5.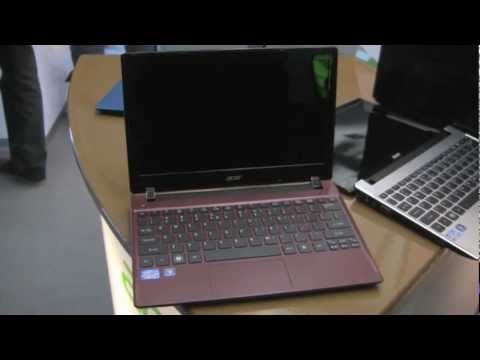 Press Conference Photos: