ARCHOS has announced a $129, kid-friendly, 7-inch Android 4.0 tablet called the ChildPad that looks to be based on their existing 70b Honeycomb tablet, which itself is priced $199.
As you can see, it has a more kid-centric hardware design with the white and blue color scheme (though it doesn't look ruggedized) and candy-colored skin over Android 4.0. It will also come pre-loaded with popular games like Angry Birds, Pig Rush, and Flight Frenzy. Of course, there are parental controls to limit what children can access on the web or elsewhere. It seems that the ChildPad will not have Android Market preloaded, but instead will have a so-called Kids App Store that's 10,000 apps strong.
The $129 ICS tablet has some lower-end specs to help keep the cost down: 1 GHz (likely single-core) processor and 1 GB of RAM. We're not sure what the resolution of the 7-inch screen is, but the ARCHOS 70b had a 1024 x 600 display, so the ChildPad probably has the same.
With such a low price, it's conceivable Android tablet hackers could take this on as a new device on which to add custom ROMs. We'll see how successful the ARCHOS ChildPad is among kids or tablet hackers when it comes out around the end of March.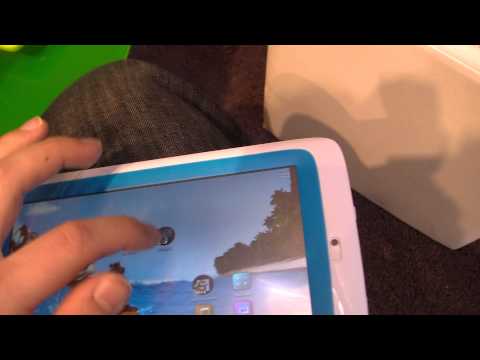 Via Ubergizmo