If you're going to keep an eye on one company this year, it is Huawei. They are making a strong departure from the cheap and dirty day's and are looking to take on the high end market. At their press conference today at Mobile World Congress.
The specs are impressive and will certainly help Huawei achieve a better brand perspective. Usually they have low end devices that have low specs, but the Ascend D quad is an Android OS 4.0 powered device that has Huawei's own quad-core K3V2 quad-core1.2GHz/1.5GHz processor, 4.5-inch 720P high definition touchscreen display with (PPI 330). The good specs keep coming, 8.9mm thin, packed with a 8MP camera that shoots 1080p HD videos and a 1.3 megapixel front-facing camera, a 1800mAh battery that Huawei says "lasts for one to two days with normal usage".
Huawei also introduced the a couple other devices, the Ascend D quad XL and the Ascend D1. Both basically have the same specs, the Ascend D quad XL has a 2500mAh battery (two to three days of usage) and is 10.9 mm slim. As for the Ascend D1 runs, this is another OS 4.0 Android with a 1.5 GHz dual-core processor with a 1670mAh battery.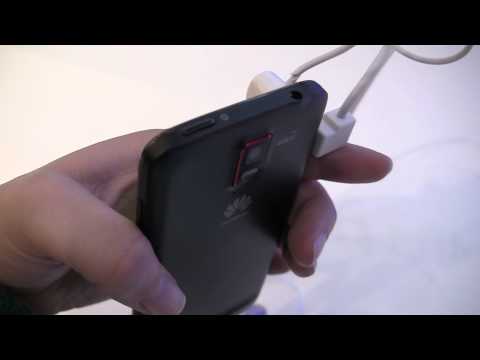 Press Release
Huawei Introduces the World's Fastest Smartphone: The Ascend D quad
With Huawei's proprietary quad-core chip and power management system

BARCELONA, Spain, Feb. 26, 2012 /CNW/ – Huawei, a leading global information and communications technology (ICT) solutions provider, today introduced the world's fastest quad-core smartphone, the Huawei Ascend D quad. Powered by the Huawei's K3V2 quad-core 1.2GHz/1.5GHz processor and boasting the most compact design among 4.5-inch smartphones, the Ascend D quad expands the realm of possibilities for consumers with an Android 4.0 operating system and Huawei's proprietary power management system which provides up to 30% in energy savings.

"We've listened to people's top demands from smartphones: speed, long-battery life, high quality visual and audio capabilities, and a compact, lightweight handset. The Huawei Ascend D quad exceeds these expectations," saidRichard Yu, Chairman of Huawei Device. "In January at the Consumer Electronics Show at Las Vegas, we achieved a world record for the world's slimmest smartphone with the Huawei Ascend P1 S. We are proud to once again introduce a world-first at the 2012 Mobile World Congress with the Ascend D quad, the fastest smartphone."

The Ascend D quad is an entertainment dynamo with its 4.5-inch 720P high definition touchscreen, and the industry's most powerful 32-bit true color graphic processor. Its PPI 330 screen providing crystal clear display even under direct sunlight, is complemented by its Dolby 5.1 Surround Sound and Audience earSmart™ voice technology for an experience which excels across the senses. Its 8-megapixel BSI rear-facing camera, 1.3 megapixel front-facing camera, and 1080p full HD video-capture and playback capabilities enables you to record your special moments in clearer, richer detail.

The Ascend D quad comes with an 1800mAh battery, which lasts for one to two days with normal usage. The smartphone's prowess is enhanced by Huawei Device's proprietary power management technology which provides a longer battery life of up to 30% compared to industry average by adjusting power consumption according to usage needs. It also ensures higher chipset performance and efficiency by maintaining a low chip temperature.

Measuring 64mm narrow and 8.9mm slim, the Ascend D quad is proof that good things do come in small packages. With an Ultra-thin frame, the lightweight and compact smartphone's 4.5-inch touchscreen seems to vanish into the edge, creating an "infinity" feel and allowing an exceptionally narrow body.

In addition to innovative hardware design, the Ascend D quad also has outstanding software design. In addition to its Android 4.0 operating system, the Ascend D quad optimizes the user experience, ensuring greater ease of use.

As part of the Ascend D series, Huawei also introduced the Ascend D quad XL and the Ascend D1 smartphones. The Ascend D quad XL comes with a 2500mAh battery which provides two to three days of normal usage. With the same specifications as the Ascend D quad, the Ascend D quad XL measures 10.9 mm slim. The Ascend D1 runs on a 1.5 GHz dual-core CPU and has a 1670mAh battery.

The Ascend D quad series will be available in China, Australia, Europe, Asia-Pacific, North and South America, and the Middle East in Q2 2012. The Ascend D1 will be available in the above markets from April 2012.

About Huawei Device

Huawei Device believes that everyone can be the center of information and that the world would be a better place if access and information barriers were knocked down. Its strong suite of mobile phones, mobile broadband devices and home devices is testimony to Huawei Device's focus on customers and its commitment to providing user-friendly mobile internet experiences through ongoing innovation. Based on more than two decades of success in the information and communications industry, and with our own channel expertise, operational capabilities and global partner resources, Huawei Device is transforming from a company that sells millions of devices in single transactions to large businesses, to a "Business-to-People" (B2P) brand that also sells individual devices directly to millions of people. As at the end of 2011, Huawei Device serves more than 500 operators all over the world. For more information, visit Huawei Device online: http://www.huaweidevice.com