If you're in the market for a Windows 7 tablet, the Kupa X11 isn't pretty but it will get the job done. What it makes lacks in curb appeal it more than makes up for in battery life clocking in at just under 10 hours of solid internet surfing and light video watching.
Kupa X11 Quick Specs
The Kupa X11 has a pressure sensitive digitizer and 10-point capacitive multi-touch that works to up the productivity game by combining pen and touch input options. Under the hood we've got an 1.5GHz Intel Atom Z670 processor with 2GB of RAM. It's got a hi-res 1366×768 screen and 2GB Ram, a front-facing 2MP camera, a rear camera which can be 3MP or 5MP, and 2 x USB 2.0 ports, a mini-HDMI port, audio jack, SIM card slot and 802.11b/g/n WiFi with Bluetooth 2.1. The 54Whr battery lasts just under 10 hours of average tablet use and the large battery size didn't tip the scales as the tablet is still under 1Kg.
The basic model with 64GB SSD is going to retail for $699 which isn't bad given the hi-end screen and battery. Adding 3G, GMS and storage up to 128GB takes the price to $999.
We've got our unboxing and Windows 8 walk through below. I loaded up Windows 8 onto the tablet with the help of Kupa and love it so much I didn't go back to the Windows 7 professional.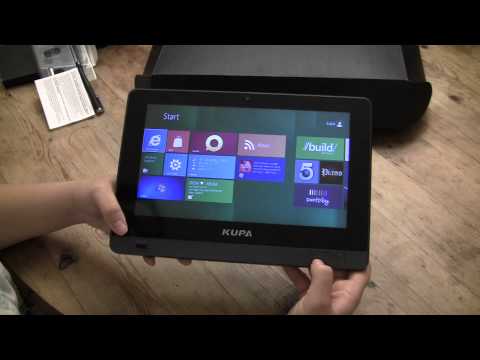 Performance
I didn't run any benchmarks so I will give you an idea of how it performed. When opening multiple applications there was very little lag, however I very much felt like I had to monitor how many apps and tabs I had open to ensure I always had smooth performance. If you're used to using a netbook, this will come as second nature.
YouTube playback of 1080p wasn't perfect but it was very watchable, if I let the entire clip render it seemed to allow for nearly perfect playback, I only noticed a few small skips. Native HD content played no problem, the unit was even able to hook up to a mini projector and play a movie for my nieces and nephews.
Design
The Kupa X11 won't be winning any awards for being a sexy sleek tablet, its boxy design with rounded edges makes it feel functional and work related, which it is, so fair enough. I'm usually a little wary of the heat vents on Intel Atom tablets, the cute comma shaped vent is offset to the left of the tablet and is not in a central location where I my placed my hand when holding the tablet. The tablet surprised me by staying very cool, the only place where it warmed up was by the PSU, where the tablet charges, which isn't in a position where I would naturally place my hands. To clarify 'warmed up' it wasn't cool to the touch like the rest of the tablet. I was most impressed that this tablet has no heat issues, the last windows tablet I reviewed, the Gigabyte S1080, I only recomended for use in cold climates to be used as a heater, so this is a refreshing change.
The finger print scanner is a nice addition to the front of the tablet and will be an attractive feature for business users looking for a Windows tablet looking to ingrate a tablet into their work flow. There are also two physical buttons which came in very handy when making changes in the Windows boot loader.
Ports and Webcam
For a Slate, X11 has a lot of connection options. On its right side you'll find a micro HDMI port, two USB ports, an audio jack and a SIM card slot. There's also physical buttons to turn the 3G and Wifi on and off. The only connection that I found lacking as an SD card reader, I found my self on more then one occassion having to transfer photo's on to a SD card or choosing another device because it was missing this port.
The 1.3-megapixel webcam provided images of acceptable quality, though the picture turned dark and shadowy in areas without a great deal of ambient light. The front facing camera was acceptable for Skype calls, though the picture did feel a little grainy.
Display
With a nice resolution of 1366 x 768 it offers a good amount of screen real estate. at maximum brightness, the colors were pretty decent and didn't feel washed out but the glossy display certainly isn't helping anyone. Viewing angles were solid from 45 degrees to the left and right, but you'll want to tilt the tablet toward your face to get the best view.
Sound quality was surprisingly good, both when watching videos and listening to music.
The Vedict
The Kupa X11 tablet offers an amazing amount of battery life for a Windows tablet my usage averaged just under 10 hours which is impressive for any tablet. The variety of ports including mini HDMI makes this a great choice to use a a portable media device but only if you're going to be playing the media locally, streaming 1080p HD content from YouTube is passable but not entirely prefect. Local 1080p video performed perfectly while hooked up to a projector. The design isn't as sexy as many of the Android tablets on the market or the iPad, but the productivity level of this devices is significantly higher because of your ability to run full Windows programs with out any lag.
The question is how much is it worth to you being able to use your Windows based programs with just one hand on the go? For most consumers the price point is going to be the deal breaker, at $699 for the base model, it's not cheap. However, comparing it to other Windows tablets, its only slightly higher or on par with much of its competition. So if you're already willing to chunk down the change on a Windows tablet the Kupa X11 with its sick battery life would make a decent choice.
Personally I would wait for Windows 8 that should be hitting the streets in Fall, we're going to be seeing a plethora of tablets from every major manufacturer. We're also expecting Intel to launch Clover Trail W tablets by the end of the year. But hey…if you were always waiting for the next generation you'd never actually purchase anything!