The ASUS Transformer Prime was introduced last week and Ztop from Bazil has managed to get some hands on photo's with the hybrid tablet. We're not sure what type of NDA they've broken or ASUS employee they've had to bribe to get access to the device in advance of its early December official launch date but we're sure going to take advantage of it. There are a series of photo's with the Prime being compared with devices like the old transformer, a Motorola RAZR Droid and the iPhone 4.
It is clearly a pre-production model, which is therefore still a little buggy, and of course is running Honeycomb 3.2. There was a benchmark run but since this is a pre produciton sample ASUS requested that it be taken off line since its really not representative of the final product. One clip that we can show you is Shadown which really shows off the power of Tegra 3 during game play. It runs absolutely smoothly and according to the tester Henrique Martin it also sound great, which you can check out the the below video. He also mentions that ASUS has actually placed a subwoofer in the docking station!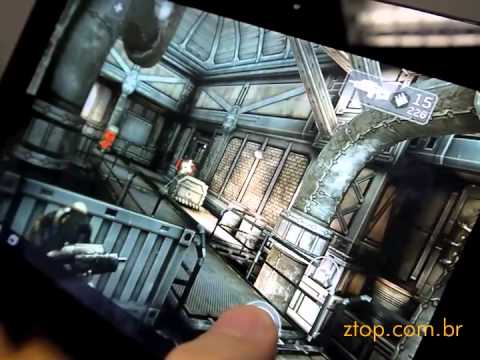 Speaking about the docking station its unfortunate that the previous generation's keyboard docking station isn't compatible with the Prime. The reason is the Prime has a much slimmer design so the new keyboard dock is necessary. The Prime is a very slim 8.3mm which would make it one of the thinnest tablets on the market.  After you've checked out the photo's let us know what you think of the Transformer Prime.
Source: Ztop.com.br via NetbookNews.de