Looking for a sleek new version of Android for your Acer Iconia A500 tablet? Take a look at ours before you decide to get Rooting.  The first issue that we came across was our A500 is running Android 3.2 for which there was no root, so we had to dig around and find a 3.0.1 ROM.  This had application crashes every five seconds but it was enough time to install the Clockwork-MOD (we'll give you  a detailed guide this week about that must have program).
Above is the home screen, you can see there are a number of widgets including the weather one from ASUS.
Update: Video: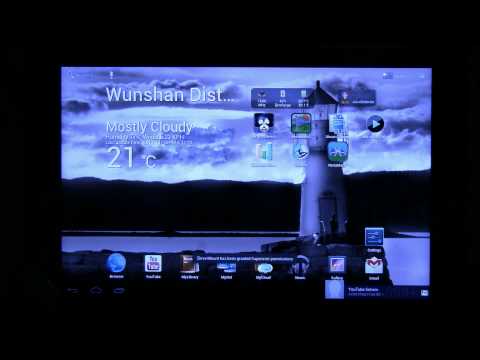 This ROM for the A500 actually has a bunch of features from that ASUS Transformer and they are some of our favorites, like the virtual keyboard below.
In the Settings menu, there is a special ROM section, with "Quick Controls" that allows you to control a whole host of the tablets core features and connectivity.
The reason you'll want to get this ROM running on your Iconia Tab A500 is the ability to under and over-clocked the processor between about 200 and 1600 MHz (you should probably back everything up if you want to run it at 1.6 Ghz, because at this speed you'll have an unstable system. It default to 1.2 Ghz and it really flies, we've got benchmarks on Quadrant of the 1.2GHz below:
It clocks in at nearly 3000 points in Quadrant, consider that the Eee Pad Transformer with Honeycomb 3.2 scores between 1800-1900, which to me makes this upgrade totally worth it! Here are a series of benchmarks from 600-1600 MHz to give you an idea of what the tablet scores.

(AnTuTu benchmark with 1600 Mhz)
(Quadrant with 1600 Mhz)
(Quadrant Running at 1400MHz)
(Quadrant Running at 1000MHz)
(Quadrant Running at 900MHz)
Quadrant Running at 600MHz
This benchmark orgy is very revealing in particular, the huge difference between 800 and 900 MHz is significant and you can still play Shadowgun when you run your tablet at 600 Mhz although it runs like butter at 800 Mhz!
If you are not overclocking the tablet at all you'll get a score of around 1100 points with an Eee Pad Transformer or a Xoom, which come with the standard Honeycomb 3.2. With the THOR ROM you'll get 60% more and with the standard 1Ghz clock speed on the ROM you'll still have 40% more power.
Features of THOR ROM V12
Thor 3.9r2 Kernel included
Deodexed
Zipaligned
216-1200MHz default
Acer Sync, social jogger, Zinio Reader, Drive Mount
Toshiba media player
Games (NFS Shift, SimCity Deluxe)
ro.carrier = wifi-only is set by default, comment it if you need mobile data … menus.
Midnight Commander aka mc-is included …
Super Note and Asus WebStorage apps from Asus
google music 3:01
acer VoiceRecorder
my old scripts that work with my 3g zte modem
Added iwconfig now you can use the app WiFi txpower to wifi reduce battery drain 

Tiamat custom quickbar
my custom menu settings specific to this rom
taskkill in recent apps list
ICS more fonts
ICS themed
smaller micoSD and usb icons in system tray (as requested …)
GPS tweaks
System tweaks
new market 03.03.11
timezone is updated from 2011g to 2011m
Bases on ASUS Acer HC HC 3.2.1 and 3.1
Conclusion
For two days we've decided to revived my Acer Iconia Tab A500 and make it the fastest Android tablet I can. The THOR ROM has many small and useful tweaks that have an impact not only on performance but also on the battery life. At 900 Mhz I get 10 to 11 hours and these are compared to "normal" times Iconia Tab A500 add up to just over 25% more play time.
>> Download THOR ROM V12 (Remember to backup your system!) <<
Via NetbookNews.de