Chimei Innolux (CMI) showcased the world's first 720p 3D display at the Flat Panel Display Exhibition in Yokohama Japan. The demonstration showcased a 4.3 inch smartphone display featuring CMI's TFT panel and MasterImage 3D's LCD and 3D Cell-Matrix Parallax Barrier technology.


MaterImage's patented technology creates an autostereoscopic "glasses free" 3D display using a process called a "Cell gap". What makes this attempt at no glasses 3D interesting is that when you leave the 3D viewing angle you are left with a close to 180 degrees of crisp clear 2D viewing.
Traditional 3D is based on "stripe technology" which doesn't offer the same ease of switching between 2D & 3D or offer the ability to switch between landscape and portrait viewing angles. If you want to learn more about how exactly this technology works they've put together a post going through the nitty gritty here.


Until very recently I dawned my "3D I want my money back t-shirt" and leave meetings justified with a head ache after demoing the bleeding edge of three dimensional entertainment. I first came across MasterImage 3D at GTC 2010 when I got my hands on the Hitachi Woo smartphone that was released in Japan. Since then I have kept an eye on this technology, I wouldn't say I'm a believer in 3D but I wouldn't object if the rumors turned out to be true and MasterImage 3D was inking a deal with Virgin Airlines. Think about it, airline seats leave very little room for movement ensuring that you stay in the ideal 20 viewing cone ensuring excellent 3D. Another big tip off was the neck pillow I received at Computex 2011 stating "Imaging watching the movie in front of you with 3D glasses".
Check out their 7 inch tablet size demo's that we got to check out back in June at Computex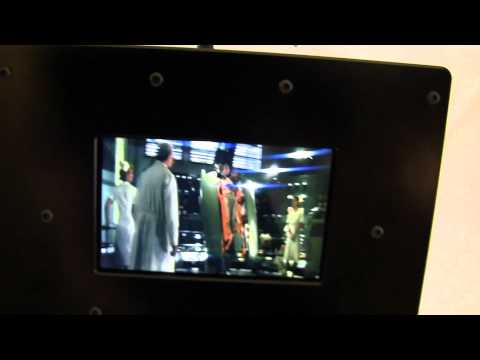 Worlds First AS3D 720p Display

MasterImage 3D and Chimei Innolux Corporation (CMI) have partnered to showcase a
demonstration of glasses-free 3D on a 4.3" smartphone.

This is the first demonstration of 720p resolution for glasses-free 3D using MasterImage
3D's Cell-Matrix Parallax Barrier technology.

The demonstration features CMI's TFT panel and MasterImage 3D's LCD and 3D Cell-Matrix
Parallax Barrier technology. The demo also showcases unique 3D content developed by
MasterImage 3D Media.

Cell-Matrix Parallax Barrier Technology is MasterImage 3D's proprietary solution that is
invented, patented and mass-produced as the leading technology in glasses-free 3D
display. The technology provides brighter images, reduced moiré effects (or rippled
appearance) and the ability to work in any orientation – portrait or landscape.

For a demonstration visit CMI booth # 3602 at FPD! International in Yokohama – the
Exhibition and Convention on Flat Panel Displays.

About Chimei Innolux Corp.
CMI is one of the leading worldwide manufacturers of TFT-LCD display products, including
TFT-LCD panels, and total solutions for LCD TV and monitor systems. Its one-stop shopping
business model vertically integrates TFT-LCD panel manufacturing expertise with systems
assembly capabilities. More information about CMI is available at www.chimei-
innolux.com.

About MasterImage 3D, Inc
MasterImage 3D, Inc provides pioneering 3D solutions for theaters and mobile devices.
With digital 3D cinema systems installed in over 70 countries, MasterImage 3D is a fast-
growing digital 3D cinema system supplier, offering audiences the clearest, sharpest 3D
experience while providing exhibitors with a compelling ownership-based pricing model.
The company invented, patented and mass-produced the cell-matrix parallax barrier, the
leading 3D technology for auto-stereoscopic mobile display. It enabled one of the world's
first glasses-free 3D phones and is in development for devices in 2012. Founded in 2004,

the company is privately held and headquartered in Hollywood, with offices in the UK,
Japan, Korea and Taiwan. (http://masterimage3d.com)
###