The Lenovo ThinkPad seems to have taken a page from the Toshiba Thrive by supporting a multitude of ports — full-sized USB, full-sized SD slot, and mini-HDMI, for example — as well as a page from the HTC Flyer by offering stylus-optimized functionality. However, unlike the Toshiba Thrive, the Thinkpad Tablet still manages to look sleek. The ThinkPad's styling, optional stylus and keyboard case make it quite attractive for business users who might be looking for a tablet as a companion tool in addition to their corporate laptop. As a non-business user, I think I would be quite happy with this tablet as well.
(photo credit: Android Central)
Android Central has a great set of photos and a short walkthrough video showing off the Lenovo ThinkPad tablet. I like what Lenovo has done with their skinning of Honeycomb. Personally not having much experience with Honeycomb tablets, I found that when I played around with a Honeycomb demo tablet at a store, the UI was different enough from the Froyo/Gingerbread Android UI that it took a little bit of time to get my bearings. With Lenovo's skin, the back, home, and taskbar buttons are more recognizable, and the front-and-center launcher with configurable zones makes various app categories more conveniently accessible.
Also, as a former Tablet PC user, I appreciate the stylus support on the ThinkPad tablet, as well as the dedicated silo for keeping the stylus easily accessible. I feel like it's a nice little shout-out to the ThinkPad line of Tablet PCs. The HTC Flyer has a stylus but no way to store the stylus with the tablet, making it easier for the stylus to get left behind or even lost. However, since the ThinkPad Stylus is an optional purchase, I would hope that the silo has a cover over it for the users who don't feel the need to buy the stylus. It's also quite notable that this tablet is the first Android tablet with official Netflix support. So the ThinkPad doesn't have to be all business, all the time!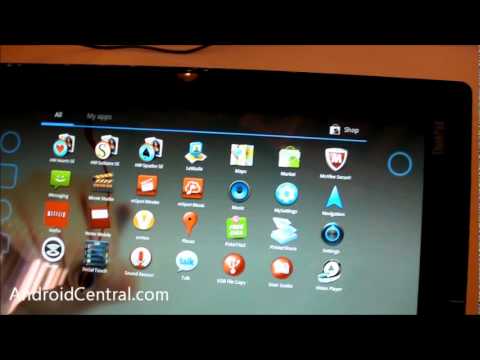 I find the Lenovo ThinkPad and the great-looking keyboard case to be quite an appealing package that could give netbooks and other tablets a run for their money. If this video preview doesn't get you wanting a ThinkPad tablet, I don't know what will!
As previously reported, the ThinkPad tablet is available from Lenovo's site, but it is also available from Amazon via 3rd-party sellers.
Via Android Central