The ASUS Eee Pad Slider is just about to come on to the market and it has a lot in common with the ASUS Eee Pad Transformer in that it they both sport a keyboard.  The Slider's keyboard however is not detachable and slides out like the name implies.
Why don't we start off with what they have in common, hardware wise they both run on Nvidia's Tegra 2 platform with 1GB or RAM and 32 GB of storage however, the Slider doesn't sport a 16GB version.  Connectivity wise they have Wifi and no 3G, GPS, mini HDMI and a micro SD card slot.  The Slider has a full size USB where as the Transformer with its docking station has 2 USB 2.0 ports and as well as a full size SD card reader.  They also both have a Accelerometer, G-Sensor, E-compass, light-sensor and Gyroscope.  Display wise they both sport a 1280 x 800 IPS panel display but the Slider has a slightly wider bezel.  Camera wise they've got a 5 MP's on the back minus a flash and on the front 1.3MP which are capable of 720p video quality which are average in its quality. Software we're looking at Android Honeycomb, the Transformer should be getting a 3.2 update any day now and the Slider is meant to be launching with 3.2.
Now how do these hybrid tablets differ?  The most obvious is the design, the Transformer can loose the docking station keyboard and be a slim light tablet, the Slider doesn't have the option to loose the keyboard to its thicker and heavier in tablet mode. If you looked at the Transformer with the docking station the Slider is actually thinner.  Actual dimensions of the Transformer are 10.67 x 6.73 x 0.51 inches, while the Slider measures 10.75 x 7.09 x 0.70 inches. The Slider is nearly identical but with about 40% extra height and weight wise it comes in at 886g while the Transformer is 680g. When you add the docking station the Transformer comes in at 1360g which is significantly heavier but it doubles the battery life to nearly 14.5 hours, without we're seeing 8 hours where as the Slider comes in at 7 hours.
If you're a visual person then you'll want to check out the video's from tabletbite.com comparing the two hybrids.  They're long so if you're really trying to decide they will help.  I'm still partial to the Transformer, the battery life and the ability to choose tablet or netbook is a versatility feature I love.
What about you? Which are you leaning towards?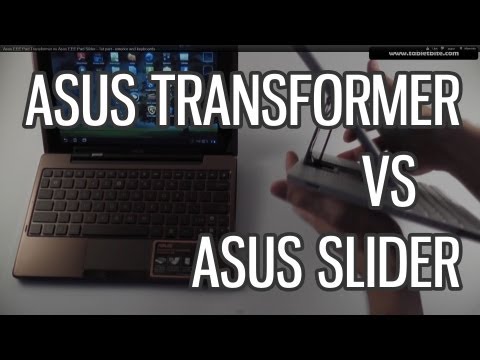 This video about software, battery life, pricing and gives conclusions.
Via Tabletbite.com