"You Suck"- This is an example of how Jamie Lin aka Mr. Jamie describes a comment as Name Calling on Paul Grahams Hierarchy of Disagreements when commenting on blogs. We here at Netbook News have found this to be extremely intriguing while attending Ignite Taipei at a local establishment in Taipei, Taiwan. Ignite Taipei is sort of a speech workshop for anyone in particular to speak about what is currently on their mind, intelligently of course. Here's the catch, each speaker is to give a PowerPoint containing 20 slides and are only allowed 15 seconds per slide, which change automatically, for a total of a 5 minute speech. The idea is to be quick and directly to the point, here Mr. Jamie does just that.
His five-minute presentation was titled 'How to Disagree' and he describes that commenting in a correct meaningful way means more to the average person and could make our lives better. Mr Jamie has been a blogger for two-years and is always talking about very controversial topics and receives around a thousand comments a month. A lot of those comments aren't very good and don't contribute to the conversation, so he resorts to enlightening the public about the Hierarchy of Disagreements to try and make thins better.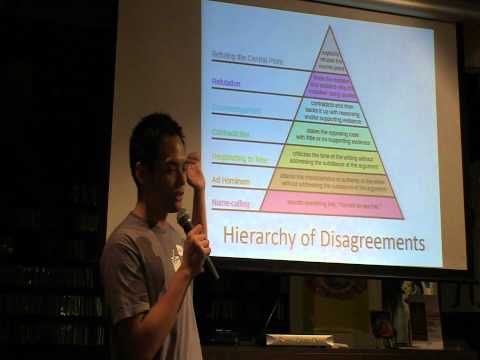 The Hierarchy of Disagreements has seven levels/types of ways to categories a comment to any specific blog or video that is created. From the bottom up these categories are Name-Calling-  "you suck", Ad Hominem-which attacks the characteristics or authority of the writer without addressing the substance of the argument, Responding to Tone-which criticizes the tone of the writing without addressing the substance of the argument, Contradiction-states the opposing case with little or no supporting evidence, Counterargument- contradicts and then backs it up with reasoning and/or supporting evidence, Refutation- finds the mistake and explains it's mistaken using quotes, and Refuting the Central Point- explicitly refutes the central point.
Mr Jamie believes the hierarchy is extremely important and could definitely be useful if those name calling commenters were to read the hierarchy to better themselves and Jamie's work. These are the steps on how to disagree 1. Figure out the central point. 2. Quote the writer if you need to. 3. Refute the point. 4. Provide reason/proof. It is very important that we learn how to disagree in order to maintain input and work off that input to make each other learn and make our world a better place.
If you want to learn more about Mr. Jamie and his day job (that's not blogging) please check out his website MrJamie.cc