Display Taiwan offered us an interesting treat at display manufacturer CPT's booth. We've all heard the rumors that the iPad 3 is going to be sporting a 3D display, but seeing an iPad with a 3D display is a different story. If you don't believe me lucky for you we've got a video below showing of the prototype at CPT's booth.
Its clear that the next iteration of the iPad is going to have an upgraded display there have been rumors that the iPad 3 will have a brighter, higher-resolution Active-Matrix Organic Light-Emitting Diode AMOLED display screen or that is its going to sport a 3D display. The inclusion of a 3D display makes perfect sense for why Apple has been pushing the high resolution and DPI, since once you got 3D you split the resolution in half, one for each eye. Which of course makes their next iteration being 3D realistic and a display manufacturer proving the concept makes it even more of a reality. That is of course technically speaking. Whether or not Apple decides to produce a 3D iPad will remain a mystery for a few more months.

The iPad 3 is due to hit the streets in Q2 of 2012, if Apple sticks to its production schedule. Its clear that CPT has the capabilities to create the screen size needed for Apple. What do you think? Do you want your next iPad to have a 3D display?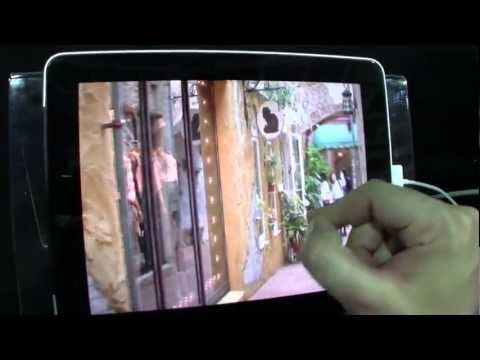 If you want to take a look at a few more photo's of the 3D iPad here you go:
We wish we had more details like screen resolution, but all we can tell you is that this was a very resolution display and nothing close to the stock 1024 x 768 we're familiar with.