Update: We've added in our hands on video for the Eee PC 1025CE (bottom of post). Difference between the 1025CE and C? The CE is higher end with a metal finish rather than plastic on the C. The CE has a cover on the webcam with 4x zoom. It also has USB 3.0 and a sleep-and-charge USB 2.0 port. Obviously, you can expect the 1025CE to be priced higher. Again, these will be out in Q4.
Here's a look at another of ASUS' goodies shown over at Computex 2011. The Asus Eee PC 1025C and 1025CE. Their first Cedar Trail netbook! Freshly designed Eee PCs with a metallic-finish lid, matte screen bezel, chrome finish surrounding the ports, flush-looking trackpad with chrome single button, chiclet keyboard but sadly reverting back to glossy displays. A single access slot for RAM. Some nifty features include HDMI out (finally!) and three-week length standby time.
Specs wise between those models, we're not exactly sure which gets what – a Cedar Trail Atom processor (N2600 or N2800), 10.1″ 1024 x 600 display (glossy here), up to 2GB of DDR3 RAM, up to 500GB HDD, 802.11b/g/n Wi-Fi, Bluetooth 3.0, 3-cell or 6-cell batteries and Windows 7 Starter. Ports include VGA, USB 2.0 / 3.0, HDMI, RJ45 Ethernet, headphone, mic jacks and card reader. The base 1025C model will be priced at $249, the higher end 1025CE model, $279. Watch out for them later in the year in Q4.
The 1025C model on display pumped out a 2.9 score on WEI with a 1.6GHz processor. Sounds like the N2600 processor (1.6GHz, 3.5W TDP) although the score is no higher than what we've seen with Atom N550 netbooks, which is odd.
Press shots from yesterday show bright colors of which there'll be various shades including black and white.
ASUS Eee PC 1025C: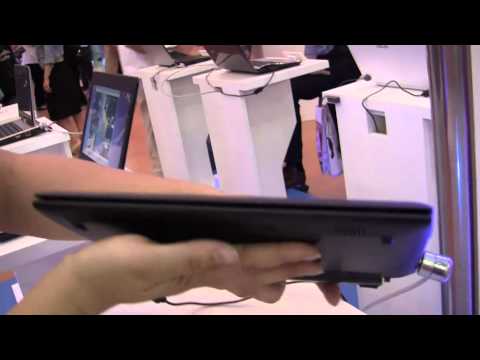 ASUS Eee PC 1025CE: