The NB520 is a 10.1 inch Netbook running an Intel Atom N550 1.5GHz Processor, 1GB DDR3 RAM & a 250GB Shock resistant Hard Drive. Connectivity wise we've got the usual, bluetooth, wifi, 3 USB 2.0, vga, audio jacks, SD card reader, kensington lock, ethernet & the option for 3G. Taiwan will not be offered the 3G option on this early release. Its also got a few luxury extras such as its textured finish, sleep charge function as well as sleep music function which will allow you to plug in an mp3 player while the unit is off and use its amazing speakers. It comes in two variations a Intel Atom N550 or an AMD C-50. I picked up the AMD C-50.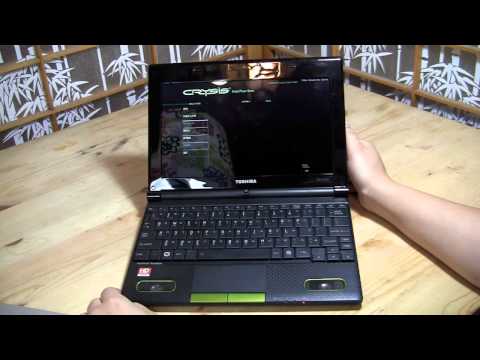 I reviewed this netbook when it first came out in Asia a while ago and if you're after the verdict then look no further (I should also mention that this is currently the netbook that I bring around with me when I travel
The Toshiba NB550D feels sturdy, looks good, it's light and it has good speed for a netbook. The HDMI port should make it appeal to users who want something small that they can plug into their TVs to watch streaming video or downloads. The NB550D feels far more sprightly than the average Atom netbook. And as more software comes along that takes use of GPU acceleration, the C-50 is going to have an increasing advantage over Atom netbooks.
The biggest disadvantage to this netbook is the battery life; 4 hours is not long enough for my tastes, but it's a question that only you can answer. Is the trade off for graphic performance worth the cut in battery life?
The question is, are the premium features enough for you to open up your Wallet that little bit extra since this netbook rings up at £297? which from looking at UK prices for comparable netbooks is a very reasonable £30-£40 extra.
If you are looking for something that is going to excel at video playback and can handle some light gaming, and you need it to be portable, then you shouldn't be looking any further.
Via Blogeee