Looking for games for your Android 3.0 Tablet? Well look no further we've got a list of games we think you'll love and they are all optimized for your big screen!
Great Battles: History: Great Battle Medieval is a huge 3D RTS game for Tegra 2 Android devices that featuring some great graphics, highly detailed gameplay and unique animations on a per troop basis. That means that your unit of Archers will actually have asynchronous animations meaning while one archer is firing, another could be loading up an arrow and yet another getting stabbed in the face. The way this is designed means that on your Tegra 2 Android device, you'll be able to see somewhere between 600-800 units animated independently.
Samurai II Vengence: It's full of comic-book style graphics and blasts of +1s and x8s with a birds-eye-view joystick and triple-button style story-based game. Gore, quick action, and loads of special moves you can do to blast through your enemies. Upgrade your skills as you gain experience and upgrade your health and skill combos by buying them. Between levels you'll find anime-style comic panels that bring your story to the forfront, all of this (including gameplay) at 60 frames per second.
Gurrilla Bob THD - It's a powerhouse of a fun and simple shooter that rocks like a stick of dynamite attached to an arrow sticking to a bad guy!  This is a game that's extremely easy to get into, challenging enough to make you want to play for minutes and hours on end, and there's several modes of play (including a multiplayer mode!) that'll keep you around for multiple plays. You can even play against your friends who have the iOS version!
Hero of Sparta THD: Hero of Sparta is an exciting romp through Greek mythology as King Argos cleaved everything in his path with repeat button-mashings. Hero of Sparta HD stretches across several lengthy stages and includes a boatload of epic boss battles. There are plenty of objects to collect such as crystals that increase health and magic power.
Monster Madness THD: Like running around  murdering the heck out of hoards of monsters. There's mutant spiders, obese gelatinous goons, red-eyed monkey jumpers, and of course, lots and lots of zombies. Bit more then some of the others at $7.99.
Dunegon Defender: This game is free in Android Marketplace and has gameplay based on a warriors tale: Long ago, brave warriors across the realm stood together against an immortal evil known as "the old ones". In the wake of this struggle, the champions locked away the power of the old ones inside Eternia crystals. These crystal are what you must protect in Dungeon Defenders: First Wave. Its cross platform online multiplayer powered by Unreal Engine 3 which means is you have graphics that rival some consoles in the palm of your hand.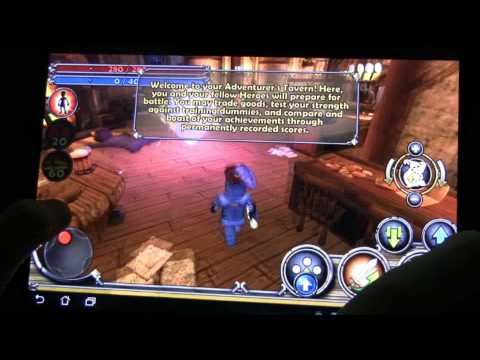 Vendetta Online: Vendetta Online is a 3D space combat MMORPG for Windows, Mac, Linux and Android. This MMO permits thousands of players to interact as the pilots of spaceships in a vast universe. Users may build their characters in any direction they desire, becoming rich captains of industry, military heroes, or outlaws. A fast-paced, realtime "twitch" style combat model gives intense action, coupled with the backdrop of RPG gameplay in a massive online galaxy.
Backbreaker THD:   NaturalMotion brings the million selling smash hit "Backbreaker Football" to your Tegra HD device. Featuring stunning high-definition, console quality graphics, incredibly fluid animation (using NaturalMotion's Morpheme engine), bone-crunching tackles (based on Endorphin simulation technology), two faithfully recreated 3D football stadiums, real-time jumbotron and multi angle instant replays and is only $4.99.
Need For Speed Shift: Aimed at a hardcore gamer-style audience, Shift reverts to the touring-car simulation style of its 2007 predecessor, NFS ProStreet. Although the gameplay of these two titles are similar, Shift recreates car handling much more realistically than ProStreet, and does not contain a story. Upon starting the career mode, the player must do a lap of the track to decide on car settings. Once completed, the player is welcomed to the 'NFS Live World Series', and must earn stars in races to earn money, and unlock new races.
Let's Golf: An arcade style game features 8 playable characters, each rendered in full 3D and their gear and clothes are fully customizable. As you progress through the game, you'll be able to unlock more gear and clothes which can also improve your skills. Each character also possesses their own unique super power which can give them an edge. Powers like stopping the ball, making it sticky, or the ability to rewind can be used once the player fills up their character's super power meter and will run you $3.00.
Fruit Ninja: Fruit Ninja is a juicy action game with squishy, splatty and satisfying fruit carnage! Become the ultimate bringer of sweet, tasty destruction with every slash.  Swipe up across the screen to deliciously slash fruit like a true ninja warrior. With three games modes in single player and worldwide leaderboards using Openfeint, the addictive gameplay will keep you coming back for even higher scores.
So if you thought there were no good Android Games, you're wrong! Oh and we didn't actually name a best game because we couldn't agree! Fruit Ninja has stollen hours of my time, but hey, I'm a sucker for smoothies! What's your top Android Game, let us know in the comments so we can check it out!