IDF Beijing 2011 isn't a show where MeeGo is hiding meekly in the corner. Today there was an announcement from Tencent and Intel launching a joint Innovation Centre in Shanghai. The partnership isn't brand spanking new, as they announced their official courtship back in April 2010, but what is new is their renewed vigour and Tencents dedication to bring games to MeeGo tablets. We can only imaging that after Nokia lessened their commitment Intel, smartly enough, looked to where MeeGo's uptake would happen quickest. China is a perfect breeding ground for MeeGo since the unhappiness with Android is rampant with it being kind of open and full of malware because of third party stores. The representative on stage for Tencent, actually said "Android is a Mess" (these were the translators words, so best not be taken as a direct quote) but it does express, what appears to be a common sentiment in China. When I asked around the press room is this was in fact true, the Chinese journalists confirmed that the lack of marketplace support leaves a bad taste in the mouths of the consumer. Tencent and its commitment to expand their labs from 60 engineers to 100 over the next year is a good sign, especially since they are looking to leverage Oaktrail for gaming.
All of this aside we had a chance to look at the MeeGo tablets that were on display at the "MeeGo Fair" that took place after the press announcement. The hardware is new and is looking to get branded by an OEM and is based on Oaktrail. Its a 10.1 inch device with a 10mm thickness running the Z670 1.50GHz processor with an 1GB or RAM and an SSD of an unknown size. Taking a walk around the tablet you'll find an accelerometer lock, volume rocker, a physical camera button, headset, mini usb, micro sd, SIM card slot, wifi on/off, docking station port and stereo speakers.
What is interesting to note about the UI that we are seeing here is that it has lost the vertical axis where the colunms looked to extend infinitely down, it does appear to still be possible but it is a significantly different from the MeeGo UX that we saw at MWC. If you don't recall I've posted the UI we saw in February and then the UI that we saw today right below.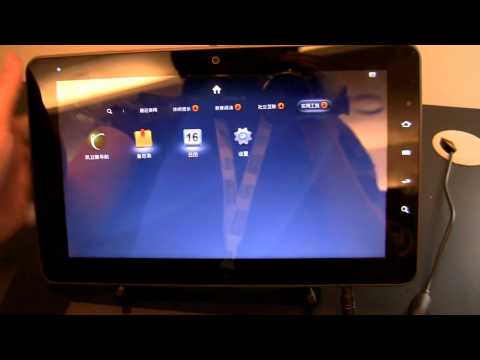 Which do you like better? If you can't really tell from the photo's here is the video of our walk through today and here is a link to our MWC Detailed MeeGo Tablet User Experience Walk Through


Let me know in the comments what you think or if you have any requests for things you'd like me to catch on video. There is a 'MeeGo Day' on April 14th so I'll have more time with MeeGo tablets then. Its a pretty special thing that I'm even going since media are not invited, but some how I've managed to talk to my way in (foreign jounalist..nay blogger in China! I'm surprised they are letting me anywhere!) So any requests or tasks you'd like put to the MeeGo tablets they've got here in China?