Look what we have here, the Acer Aspire ICONIA TAB A100 7″ tablet is available for sale on Amazon.co.uk for £299.99 and will be shipping on April 20th. We're pretty excited because this is dirt cheap! If you coverted this to US Dollar's you're looking at $485 which makes it a very competitive tablet. Prices in the UK are usually higher compared to prices in the US, this means that it could very well come in a the rumoured $350 price point when its finally released in the US!


This 7″ Android 3.0 tablet has a dual-core processor NVIDIA Tegra 2 tablet with 5 and 2 megapixel cameras & comes in Wi-Fi and 3G versions. The screen features capacitive touch and a resolution of 1024 x 600 pixels. One of the points highlighted in this tablet is that with its nvidia processor you'll be able to run 3D graphics processing and display high-definition video up to 1080p.
As for the rest of their connections its got an HDMI port, Wi-Fi and Bluetooth 3.0. Acer has also included a system for sharing multimedia files called clear.fi. The physical dimensions of the Acer Iconia Tab A-100 are 195 x 117 x 13.1 mm and the battery life according to Acer is 5 hours of playback featuring 720p video.
If you are looking for a hands on video tablet-blog.de grabbed some hands on time at CeBit last month. The video below is of a pre-production sample running Android 2.2, but it gives you a good idea of the A100′s form factor.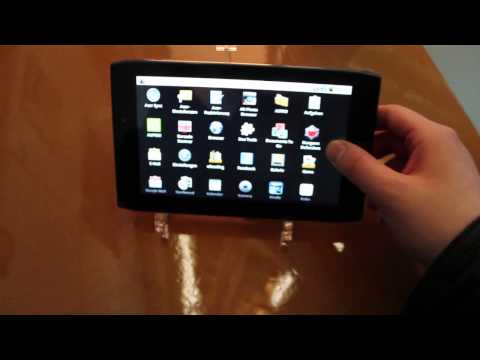 Via
Amazon.co.uk