Every once and a while Taiwan gets a product before anyone else, usually they go unnoticed, but today we've got the ASUS Eee Pad Transformer a 10.1 inch tablet with keyboard docking station. The specs have been confirmed earlier in the week along with a Honeycomb operating system running on its nVidia 2 SOC processor.


The biggest change that we've seen in the Transformer since CeBit are the services that ASUS will be providing with their customization of the Honeycomb 3.0. Its called ASUS Waveshare and its made up of MyNet, MyLibrary & MyCloud from the short time that I have spent with these Apps dlna, wifi sharing and ASUS Webstorage are integral to their theme.
The real question of the day is around the price point and its global availability. We are going to be seeing the Transformer here in Taiwan in April but there is no word on when it will be shipping globally. As for price point, in Taiwan we're going to be seeing it come in at $14,900NT ($500USD) for the tablet and an extra $3000NT ($100USD) for the keyboard dock.
Things actually get interesting when we're looking at US & EU pricing as we should be seeing it ship for $400USD/Euro for the tablet. That's right folks the Europeans are getting screwed on this one! Lets hope they change their mind at launch but from what we've seen online in Europe it sounds true!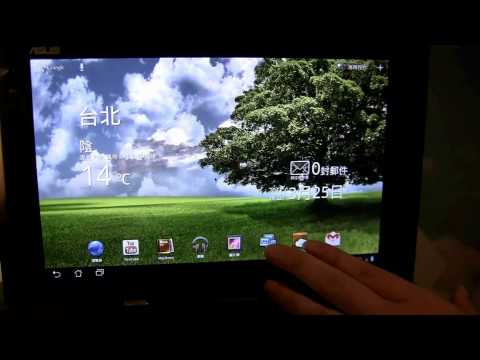 Asus Eee
Pad
Transformer Tablet Specs
10.1 inches of capacitive touchscreen display
1280 x 800 pixels of screen resolution
1GB of LPDDR2 RAM
Runs on Android 3.0 (HoneyComb) operating system
Powered with nVidia Tegra 2 SoC processor
Two cameras of 1.2 and 5 mega pixel
16GB/32GB/64GB of flash storage
Integrated bluetooth and Wi-Fi connectivity
Micro SD card slot
Audio jack, USB 2.0 and HDMI connector
12.9 mm thick
680 grams of weight
Stereo speakers