The Acer Aspire One D255 – Acer's first dual-core netbook, and one of the first 10-inchers anywhere to use Intel's new Atom N550 processor. Looks wise it has a thin profile & is lighter then the average netbook weighing in at 2.6 pounds. The exterior is glossy but could be worse as a finger print magnet. On the inside however is a glossy bezel around a extremely glossy screen, making the whole thing even more reflective.
Though the keys are large and extend end-to-end across the chassis, we found the overall typing experience cramped because of the narrow chassis and short palm rest that had our wrists hanging over the front lip. In addition, we noticed a little flex when we pressed down on the G and H keys. Despite all of this this is not a bad keyboard, I was able to type this article at a reasonable speed though it does seem like I have to go back more then usual to correct spelling errors due to button mashing or mistyping.
The 3 x 1.5-inch Touchpad suffers from very serious inaccuracy problems. As we navigated around the desktop, occasionally the pointer would suddenly jump a few pixels and other times it seemed to slow to a crawl. Everyone who was given a demo unit at IDF a few weeks ago experienced this. To me this is unacceptable a decent track Pad is a key Element in my productivity on a netbook. It doesn't take too much more effort to go back and spell check my work, I should be doing that more anyways, but not being able to surf quickly because of a crappy inaccurate track pad is more then I can handle.
If you are one of those people who NEED an external mouse then this should not stop you from picking this up, if you light to keep your bag stream line, I would skip it. But I have strong feels about crappy track pads and messy lower right hand corners of keyboards. On the Acer D255 the page up and down are squeezed in neatly beside the arrow up key, so far I haven't experienced any accidental page jumps, which is a plus for this keyboard.
The 1.3-megapixel webcam produced blurry images that were completely washed out under fluorescent light. In ideal conditions you could make out may facial features but I wouldn't want to have this be a regular skype experience, in a pinch, but by no means everyday.
If you like to watch YouTube in full-screen 720p you will be in heaven as playback was smooth. Native 720p files also played with out issue, we tried out the Predator Trailer in HD using VLC Player. Unfortunately, when just listening to music when we moved the pointer around during audio playback, we occasionally noticed some distortion as the audio itself seemed to slow down at times. (Thanks Avrim from LaptopMag, we hadn't noticed this until he pointed it out!)
As for benchmarks, on PCMark05, a benchmark that measures overall performance, the system scored 1,696, about 15 percent higher than the category average of 1,428 and noticeably higher than the single-core Toshiba NB305 (1380). Just in case you're wondering how it stands up against other dual core netbooks on the market the ASUS Eee PC 1015PEM managed a higher score of 1,729. On 3DMark06, an overall graphics benchmark, the D255 scored only 151, less than the netbook category average of 293 but about on par with the Samsung N150 Plus (156) and the Toshiba NB 305 (151). The Ion-powered ASUS 1215N scored a whopping 2,692.
The ACER D255 lasted 8 hours and 14 minutes on the LAPTOP Magazine Battery Test, which involves continuous surfing over Wi-Fi.
Conclusion
The price is the most compelling feature of this netbook, as it comes in at $329 (see Amazon.com). The battery life is over 8 hours of web surfing & it is very thin and light. But if it were my $329 I would want a track pad that was usable and if I wasn't so tech savy on un-installing bloatware & crapware the unit would be unusable. If you after the price and are ok knowing that your netbook is going to need some love and attention before you can start using it & like to carry around a mouse, then the ACER D255 might be the right netbook for you. But I would save my money for a netbook that would make me feel good about lightening my Wallet and grant me gadget bragging rights that go further then the dual core N550 processor.


If keyboard and trackpad are what you are after check out the Toshiba N305 review here, for productivity it offers the largest trackpad in the segment.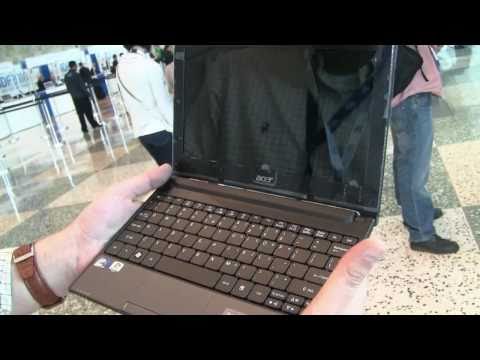 Acer D255 Specifications:
CPU: 1.5-GHz Intel Atom N550
Operating System: MS Windows 7 Starter Edition
RAM/Upgradable to: 1GB/2GB
Hard Drive Size: 250GB
Display Size: 10.1 inches
Native Resolution: 1024 x 600 pixels
Size: 10.17 x 7.28 x 0.95 inches
Weight: 2.4 pounds
Check out the Acer Aspire One D255 at Amazon.com.